You are here
Jordanian Abdullah Abu Khalaf crowned champion of 5th Arab Reading Challenge
By JT - Sep 21,2021 - Last updated at Sep 21,2021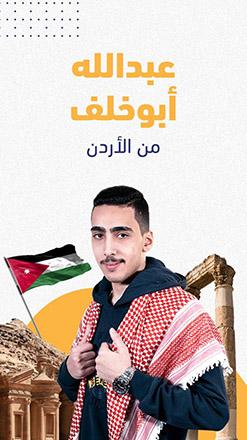 Jordanian teenager Abdullah Abu Khalaf was declared the champion of the fifth Arab Reading Challenge (Photo courtesy of Arab Reading Challenge)
AMMAN – Jordanian teenager Abdullah Abu Khalaf was declared the champion of the fifth Arab Reading Challenge in a live TV ceremony aired on MBC Channel on Monday.
Abu Khalaf, 17, bagged a prize of 500,000 UAE dirhams in a ceremony held under the patronage and participation of Sheikh Mohammed Bin Rashid Al Maktoum, Vice President and Prime Minister of UAE and Ruler of Dubai, according to a statement from the event organisers.
The winner outperformed the other four finalists, with Sarah Al Daeef from Morocco named second, Diaa Al Qaisum from Saudi Arabia named third, Yousra Mohammed Al Imam from Sudan in fourth and Abdul Rahman Mansour Ahmed Mohammed from Egypt in fifth.
Displaying intellect, knowledge, eloquence and character, Abu Khalaf emerged triumphant among the fifth edition's 21 million participants from 52 countries across the world, the statement said.
Moza Al Ghanna from the UAE bagged the 300,000-dirham Outstanding Supervisor award for her efforts in guiding and motivating students to participate in various stages of the challenge – especially amid the pandemic. She was selected from 120,000 participating supervisors in this year's challenge.
Egypt's Al Ghoraib School for Basic Education won the one-million dirham Best School award, outperforming 96,000 schools with activities and efforts to make reading an integral part of students' lifestyle.
During the event, Sheikh Mohammed Bin Rashid Al Maktoum said in a video speech: "Passion for the Arabic language persisted during the coronavirus pandemic."
Congratulating the winners, Sheikh Mohammed Bin Rashid Al Maktoum said: "I thank the 21 million Arab students who participated in the challenge despite the pandemic."
"I would have loved to meet the finalists like I do every year in the UAE, but the circumstances posed by pandemic prevented that," he noted.
"Reading will remain our shield against any difficult times. We will soon you all soon in the UAE."
The ceremony, hosted by George Kordahi, the recently announced Lebanese minister of information, was broadcast on MBC Channel and the Arab Reading Challenge website.
Winners of the challenge, which distributes awards totalling 11 million dirhams, received their awards this year through UAE embassies and diplomatic envoys in the targeted countries.
Abu Khalaf received the news of his win as the Arab Reading Champion via a surprise visit from Ahmed Ali Al Balushi, the UAE Ambassador to Jordan, who congratulated him and his family on his remarkable achievement, the statement said.
Held under Mohammed Bin Rashid Al Maktoum Global Initiatives (MBRGI), the Arab Reading Challenge aims to foster the culture of reading and knowledge acquisition as a well-established practice among school students.
Since its launch in 2015, the challenge has been directed towards developing general knowledge among the young generation, reviving the prevalent use of Arabic language and enhancing self-learning skills and analytical, creative and critical thinking.
Newsletter
Get top stories and blog posts emailed to you each day.