You are here
Jordanian archaeologist calls for 'urgent' conservation work at Umm ar-Rasas
By Saeb Rawashdeh - Jun 03,2023 - Last updated at Jun 04,2023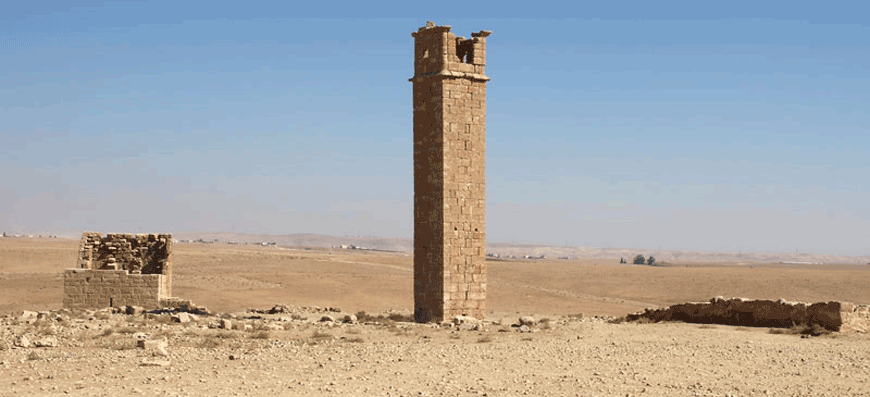 A view of a Stylite tower in Umm ar-Rasas, dedicated to the practice of hermitage (Photo courtesy of Haupt and Binder)
AMMAN — Umm ar-Rasas, some 75 km south of Amman, has a glorious past that covers different historical periods including the Iron Age, the Nabataean, the Roman/Byzantine and the Early Islamic periods, noted a Jordanian archaeologist Mohammad Najjar.
At the 3rd International Conference of Tourism Management and Conservation in Amman, Najjar discussed the area's storied past in his presentation titled "Umm ar-Rasas/Ancient Kastron Mefa'a: Past, Present and Uncertain Future".
"During the Late Roman period, it was a military camp [Kastron/Castrum] with the purpose of controlling two major commercial routes: the King's Highway to the west and the Desert Highway to the east. During the Byzantine period the camp grew up to become a major town with many churches. The building of churches continued in the Umayyad and Early Abbasid periods [8th century AD]," noted Najjar.
Despite being located in an earthquake-prone area, most of the site's attributes have been "miraculously preserved", Najjar continued.
Such attributes include the outer walls of the Roman camp with at least one gate in the north and another possible gate in the south, many churches with exceptionally preserved floors, wine presses, water reservoirs, a defensive tower, and most importantly, a Stylite tower, dedicated to the practice of hermitage.
"Although the interior of the camp was seemingly badly damaged by the earthquakes, the limited excavations in the camp clearly demonstrated that at least the layout of the town is well preserved. Furthermore, the lower parts of the structures including the floors are well preserved too. Many structures were preserved in the centre of the town and in its northern part [the defensive tower, the Stylite tower and the church]," Najjar said.
The site has been inscribed as a UNESCO World Heritage Site since 2004.
"Unfortunately, the site, until now, lacks a comprehensive management plan," Najjar stressed, adding that there has been very limited conservation work to stabilise and conserve the site's attributes which meet UNESCO's standards of Outstanding Universal Value.
These attributes include the Stylite tower, the external walls of the Roman camp and the Byzantine town, and most of the exposed churches with mosaic floors that are not sheltered with backfilled floors, he said.
"To that, we can add almost the complete absence of the site's interpretation and the lack of clear trails. The extremely fragile walls of some structure [the so-called Villa for example], and the many open water wells are a huge threat to the visitors," Najjar pointed out.
Najjar also warned about potential problems that could face the site in the future.
"All the facts listed above make the future of the site very uncertain, because [there is] the threat of losing the site's Outstanding Universal Value unless an intervention of preservation and presentation of the site is urgently made," he said.
Newsletter
Get top stories and blog posts emailed to you each day.