You are here
Jordanian choir scores gold at 'choral Olympics'
By Bahaa Al Deen Al Nawas - Jul 27,2016 - Last updated at Jul 27,2016
Dozan wa Awtar members take the stage at the Haya Cultural Centre in Amman on Tuesday (Photo by Bahaa Al Deen Al Nawas)
AMMAN — Jordan's Dozan wa Awtar choir has won two gold medals at the 9th World Choir Games in Sochi, Russia, choir manager Nedy Muna announced on Tuesday.
Speaking at a press conference in the Haya Cultural Centre, Muna said the international competition was "like the Olympics" for choirs, noting that participating choirs could select which categories to compete in.
"As someone in the Olympics would choose to compete in basketball or football or ping-pong, Dozan wa Awtar choir picked the musical categories of spiritual music and folk," Muna told reporters.
Dozan wa Awtar competed in the games for the first time two years ago, in the open category, which any choir can enter, he added.
Having won a gold medal in Latvia, the choir was eligible to enter the 9th World Choir Games in the champions class, Muna said, noting that Jordan was the only Arab country competing at that level.
Some 12,000 singers in 283 choirs from 36 countries took part in the Sochi competition, the choir manager said.
The 10th World Choir Games will be held in South Africa in 2018, according to Shireen Abu Khader, who established the choir in 2002.
Dozan wa Awtar performed several songs during the press conference, which Abu Khader described as spiritual and folk.
She explained that the spiritual category was not necessarily for religious works, but focused on Baroque or classical music by composers like Bach or Mozart.
Dozan wa Awtar choir worked with Syriac, Chaldean, Assyrian and even Byzantium music leaning to the East, in order to create three Eastern musical pieces, Abu Khader said.
A fourth composition combined Sufi and Christian music to represent the harmony between followers of Islam and Christianity, she added.
The group, which describes itself as a secular choir, premiered the song "Haneen" (Nostalgia) at the press conference, combining music by Sayed Darwish and poetry by Kahlil Gibran.
Abu Khader said the piece was a reflection on events in Egypt, noting that it had a personal meaning for her, as her grandmother is Egyptian.
The choir, according to Muna, will start rehearsing in September for Christmas concerts.
Amman Mayor Aqel Biltaji, who attended the press conference, said that the Greater Amman Municipality was ready to provide any support Dozan wa Awtar might need.
Related Articles

Jun 17,2014
Her Majesty Queen Rania on Tuesday met with members of the Dozan wa Awtar choir which is participating in the 8th World Choir Games next month.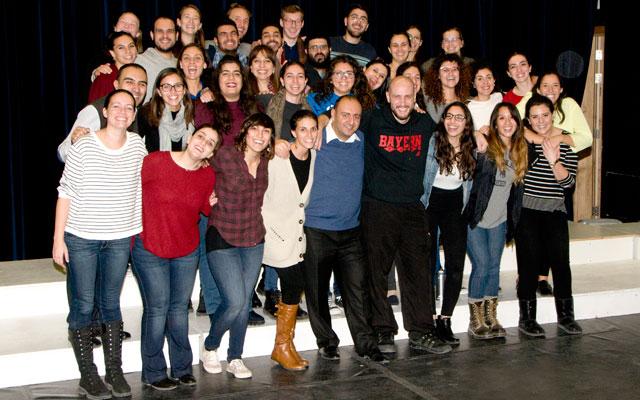 Dec 13,2016
AMMAN — It is not every day that a Jordanian choir reaps two gold medals at an international competition in which more than 12,000 singers f
Dec 05,2017
AMMAN — The Terra Sancta Theatre in Jabal Luwebdeh on Sunday resonated with excitement and nostalgia, as the local choir Dozan wa Awtar perf
Newsletter
Get top stories and blog posts emailed to you each day.