You are here
Jordanian scholar wins Harvard fellowship
By Ana V. Ibáñez Prieto - Nov 01,2017 - Last updated at Nov 01,2017
Rana Dajani, an associate professor at the Hashemite University, has been selected by the Radcliffe Foundation for Advanced Study at Harvard University as one of the fellows in the Radcliffe Institute Fellowship Programme (Photo courtesy of Rana Dajani)
AMMAN — Rana Dajani, an associate professor at the Hashemite University, has been selected by the Radcliffe Foundation for Advanced Study at Harvard University as one of the fellows in the Radcliffe Institute Fellowship Programme (RIFP), becoming the first professor at a Jordanian university to achieve such recognition.
"There might be other Jordanian scholars residing in Western countries who have been granted this scholarship, but I am the first one to receive it while residing and working in Jordan," Dajani told The Jordan Times, noting that "the idea is to be able to achieve such recognitions while doing science within the constraints of one's own country, and to build one's own country regardless of the challenges."
Ibraheem Atmahat, spokesperson at the Hashemite University, said that "the university is proud of this accomplishment", expressing that they want to "encourage Dajani in this international experience".
Each year, RIFP selects a total of 50 leading academics worldwide and grants them with a one-year fellowship, in order to create an "interdisciplinary, international community of fellows across the arts, humanities, sciences and social sciences", according to the institution's official website.
Dajani's profile on the programme highlights her position as an authority on the genetics of the Circassian and Chechen populations in Jordan, and her research focuses on the genome-wide studies concerning diabetes and cancer in stem cells.
Furthermore, the program also notes Dajani's advocacy for the establishment of the law for stem cell research and therapy in Jordan.
Each fellow spends the year working on an individual project, benefiting from the support of the multidisciplinary community at Harvard University.
"I want to take the time at Harvard to explore new research, and to write a book where I will share my perspective as a Muslim, Arab and female scientist," said the scholar, whose project aims to document the challenges that women face in academia and how they vary across cultures, religions and disciplines.
"I want to write about this topic because it is relevant not only to our part of the world, but the whole world" continued Dajani, noting that "the challenges faced by women are the same worldwide".
"Moreover, I want to dispel stereotypes and myths through this book to counter the media images," said the scholar, expressing that "Arab, Muslim women are strong, givers and doers, and I want to make sure that the women in our part of the world can learn from others while maintaining their identity and who they are."
When asked about her shift to social sciences, Dajani pointed out that "as a scientist, we hold an obligation towards society to share our knowledge", adding that "to do good science, you have to be interdisciplinary".
"As I go into new realms, I am always learning, expanding my horizons and challenging myself — it is exhilarating," she expressed.
Before embarking on RIFP, Dajani wrote in "Nature" magazine about education and women in the Arab world, and she was also featured on the "Arabian Business" magazine's list of "The World's 100 Most Powerful Arab Women".
Furthermore, Dajani is the founder and director of the NGO "We Love Reading", for which she has earned the Library of Congress Literacy Award Best Practices, a Stars Impact Award, the Synergos Arab World Social Innovator Award, a WISE Award, and recognition from IDEO.org.
A 2014 Eisenhower Fellow and a member of Al Hussein's Order for Distinguished Contributions of the Second Class, Dajani earned a PhD in molecular cell biology from the University of Iowa.
Her work is now being showcased at the Visual Intelligence exhibition at Harvard University, which introduces the 2017-2018 Radcliffe fellows and the projects they will embark on during their programme.
Related Articles
Aug 16,2018
AMMAN — Started in 2006 as an initiative to boost reading in urban and rural Jordanian communities, We Love Reading (WLR) has now reached 40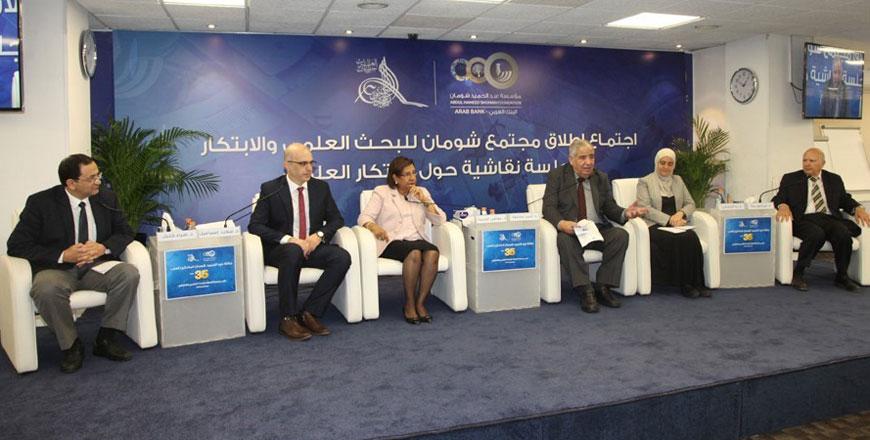 Nov 05,2017
AMMAN — A panel at the Abdul Hameed Shoman Foundation (AHSF) on Sunday discussed the obstacles of conducting scientific research in the Arab
Dec 22,2014
Local academics showcased projects on Monday that they designed to address problems affecting the daily lives of Jordanians, as part of their social responsibility and within a competition launched recently.
Newsletter
Get top stories and blog posts emailed to you each day.