You are here
Jordanian youth work to improve media literacy skills
By Camille Dupire - Nov 01,2018 - Last updated at Nov 01,2018
Youth from across the Kingdom participate in a media literacy information training session recently (Photo courtesy of UNESCO)
AMMAN — As the world celebrated the Global Media Literacy Information (MIL) Week, the UNESCO Amman office, in collaboration with the Media Diversity Institute, has offered a number of MIL training sessions to youth from across the Kingdom.
"There are many issues that have been created as a result of the misuse of media and social media. In Jordan, there have been cases of cyberbullying that have resulted in suicide. Now that I have improved my MIL skills, I tend not to believe any news until I am able to define the course of it," said Renad Taha, a participant in a training of trainers (ToT) session held recently.
Gathering a total of 82 participants from civil society organisations in Irbid, Maan, Jerash and Amman, the capacity training sessions focused on enhancing competencies to search, critically evaluate, use and contribute information and media content wisely; understanding how to combat online hate speech and cyberbullying; as well as understanding ethical issues surrounding the access and use of information, according to a UNESCO statement sent to The Jordan Times.
"The main objective of the training was to equip youth with a strong grasp of MIL, enabling them to critically use media tools and to pass on their knowledge and skills to peers," the statement said, noting that the sessions tackled various MIL-related issues, such as navigating fake news and propaganda, ethics of using social media, the effect of media on emotions, the benefits and risks of the internet cyberbullying and hate speech.
"MIL skills are critical in the quest to ensuring an informed public, capable of digesting media," the statement said, noting that the training came as part of UNESCO's mandate of "encouraging diversity and freedom of expression".
Fatima Qablan, who volunteers with Taha at ILearn, a local youth organisation that delivered sessions focused on fake news, cyberbullying and the ethics of using social media, said: "We feel very thrilled to be passing on our MIL knowledge to youth in Jerash."
Through the ToT she underwent, Qablan said she learned a lot on media awareness, and now "feels like they're having an impact in their community".
Basma Abdel Qader, another ILearn volunteer, said she has been a victim of cyberbullying herself, which reinforced her belief in the importance of media literacy. "MIL is so important in containing the negative impact that the manipulation of social media can have," she pointed out.
Participants in the cyberbullying and hate speech session expressed how "insidious" cyberbullying can be in comparison to face-to-face bullying.
For trainee Mujahed Obeid, who once found someone using his information and pictures on a fake profile on social media, said such behaviours "spread intolerance". "Now that social media is so prevalent, we all have the opportunity to contribute to the news. We must do so responsibly," he stressed.
The MIL awareness sessions represent a joint initiative between two UNESCO projects: "Support to Media in Jordan" (STMJ) supported by the EU and the "Prevention of Violent Extremism through Youth Empowerment in Jordan, Morocco, Libya and Tunisia" project implemented with the collaboration and funding from the government of Canada, the UNESCO Amman office and the UN Office of Counterterrorism.
Launched in 2014, STMJ was praised by Prime Minister Omar Razzaz during his time as minister of education. During a visit to a MIL club in a local public school, he stressed that every child in Jordan should have access to the MIL extracurricular programme, introduced by UNESCO in partnership with the Jordan Media Institute.
Efforts to advance MIL in higher education also resulted in the introduction of MIL concepts in several universities, with two universities adopting official courses and extracurricular MIL activities, according to UNESCO.
Related Articles
Jan 27,2019
AMMAN — The UNESCO Amman office has recently launched a media training programme for youth, according to a joint statement sent to The Jorda
Jun 24,2019
AMMAN — Hamza Al Hassan, 26, a graduate of the Yarmouk University's Faculty of Mass Communications feels that there is room for media and in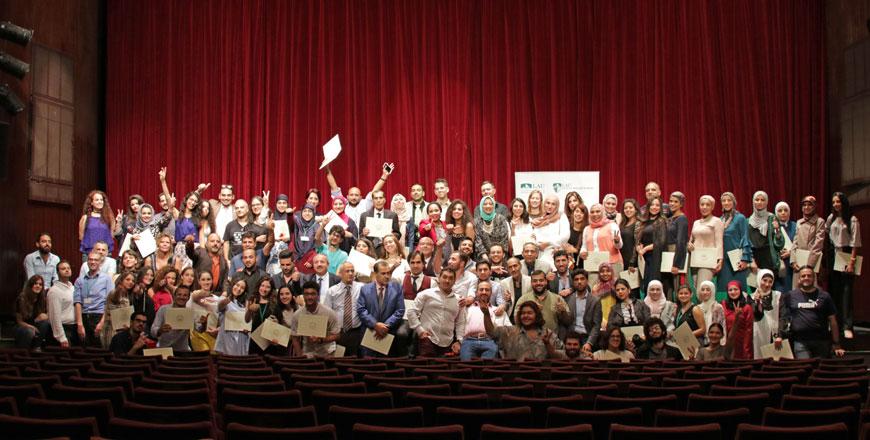 Aug 26,2018
AMMAN — Twelve Jordanian professionals on Sunday returned to Jordan after undergoing a 12-day Media Information Literacy (MIL) training prog