You are here
Jordanian youths return from social incubator training in Paris
French programme supports Arab youth in developing projects for social change in their local community
By Camille Dupire - Dec 11,2017 - Last updated at Dec 11,2017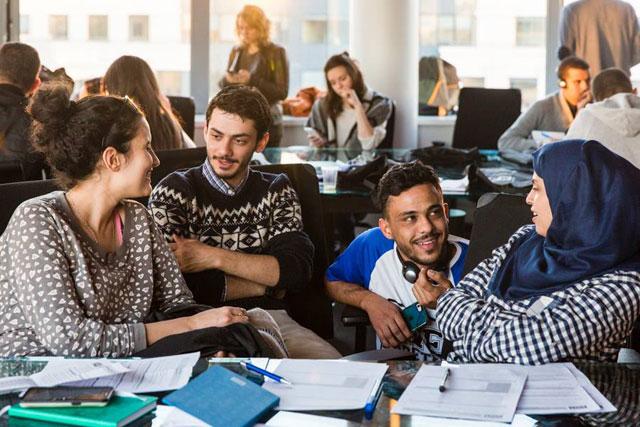 Participants in the Safirlab programme take part in a two-week incubation programme in Paris (Photo courtesy of Safirlab/ Vinciane Lebrun-Verguethen)
AMMAN — Three Jordanian youth have returned from Paris, where they took part in a two-week incubation programme that helped them develop a social innovation project they created.
Along with Egyptians, Libyans, Moroccans, Tunisians and Yemenis aged between 20 and 30 years old, Nadia Al Masri, Moath Al Thaher and Mustafa Al Sakran worked on projects focusing on the issues of citizenship, local governance and the media.
"Through the event in Paris, I had the opportunity to learn more about technical management, social networking sites, as well as many other websites which will help me improve my project. I also discovered financial strategies and learned about the 'toolbox' needed to manage a project electronically," Masri said, adding that she also had the chance to meet "a lot of great people who have amazing projects all over the Arab world".
The young woman is the project coordinator of "The Corridor", a youth-led organisation working to raise awareness about the cultural and artistic components in the Jordanian civil society, while combating particularism and social violence.
"We try to engage all segments of society to spread knowledge about freedom and equality," she told The Jordan Times, noting that The Corridor's ultimate goal is "to revive the true cultural identity across all of Jordan".
Although their project started more than three years ago, Masri and her team still had a lot to learn to develop it. This is where the Safirlab programme came in.
Designed as a social innovation "accelerator" programme, Safirlab enables participants to benefit from the expertise of stakeholders in the French civil society to build on the skills they already have, while learning to publicise their initiatives and enrich their contact and partner networks, according to Sophie Bel, director of the French Institute in Amman (IFJ).
"SafirLab came from the idea that, across the Arab world, young people are investing time, efforts and money to develop their own companies with the aim of improving daily life or enhancing personal liberties," the Safirlab website said, noting that this is what pushed several French organisations to "team up to assist these youth in developing their projects, providing them with the strategic support they need to become leading actors in society".
Another young Jordanian, Suhib Bani Hamad, participated in the programme in 2014, working on a project called "Himan".
Starting from a Facebook page, the local project provided a citizen based news coverage of the city of Irbid, offering citizens a platform to discuss local issues such as their needs in terms of services, infrastructure and planning, while also displaying job offers and various ads.
Using the three working languages of French, English and Arabic, Safirlab's mentoring includes workshops, personalised tutoring and customised meetings with businesses, associations and institutions.
Upon their return, the trainees maintain a strong dialogue with the local French Institutes and other services provided by the French embassies in their country, as well as through social networks and regular invitations to networking events, Bel said, stressing that it helps foster the creation of a network of young people in Arab countries.
Safirlab, which is supported by the French cooperation for media and the French Institutes, has supported around 20 project leaders from the MENA region since its inception in 2012, helping them address issues related to the right to education, healthcare, citizen media, women's rights, among others.
"Safirlab provides strategic support to all those who will play a major role, tomorrow, in the economic, social and cultural life of their country," the website stated.
Voicing her appreciation of the programme and the institutions supporting it, Masri said her team is now planning to expand two of its musical projects and to start a production kitchen and a local hotel, in partnership with the contacts she made while in Paris.
Related Articles
Nov 13,2017
AMMAN — "We have confused two concepts into one: the high school graduation diploma and the university acceptance.
Feb 14,2018
AMMAN — The media cooperation agency of the French Ministry of Foreign Affairs and International Development (CFI) has announced the launch
Dec 18,2017
AMMAN — "I believe that the spread of myths and rumours in the fields of science, culture, religion, medicine and history destroys our minds
Newsletter
Get top stories and blog posts emailed to you each day.