You are here
Jordanians appalled by 'international silence' on Aleppo
Analysts say conflict in besieged city part of long war in Syria
By Laila Azzeh - Dec 15,2016 - Last updated at Dec 15,2016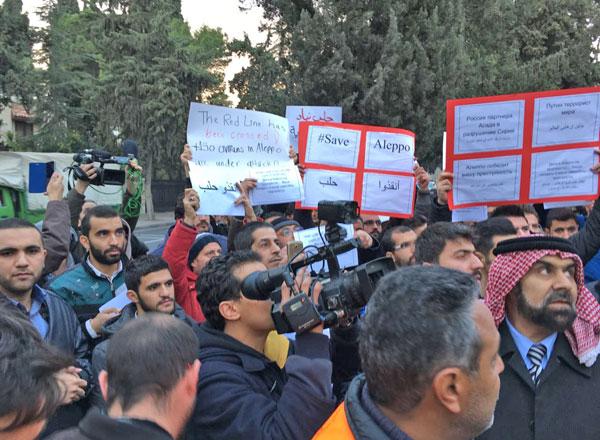 Activists protest in solidarity with Aleppo outside the Russian embassy in Amman on Tuesday (Photo by Muath Freij)
AMMAN — Jordanians have been taking to social media this week to express their resentment over the "international community's silence" towards the destruction and killing in eastern Aleppo.
Videos and pictures purportedly showing the destruction of the city and the situation facing civilians there were shared on social media amid calls for an international intervention to stop the atrocities.
"What is happening in Aleppo is the crime of our times. The whole world is fighting now in Aleppo; regional and international powers are settling scores in the Syrian city now," Mohammad Tal, Ad-Dustour editor-in-chief, told The Jordan Times on Thursday.
He blamed the "stupidity" and "brutality" of the Syrian regime for "leaving the door open to all the world's intelligence apparatuses to wrestle in Syria".
While acknowledging the inability of the Arab world to take a stance vis-à-vis the international powers fighting in Aleppo, Tal claimed that the Syrian regime "might have won this round in Aleppo with the help of the Russian forces, but the war is not over yet".
"Unfortunately, Syrians still have a long way to go in the fight for liberty," he noted.
On the other hand, Samih Maaytah, political analyst and former minister of state for media affairs, said the battle in Aleppo is part of "the long war on Syria" and that the difficult humanitarian situation has been ongoing for four years now.
"Those against the Syrian regime seized the opportunity of the battle in Aleppo to highlight the destruction, which started years ago," he told The Jordan Times, adding that any military operation will have destructive consequences.
"The whole war in Syria is causing civilians to suffer, not only the latest battle in Aleppo. Some are being selective in their empathy," Maaytah argued.
He added that the stance of the Arab League, which called for an urgent ministerial meeting on Monday to discuss the situation in Aleppo, is not consistent, with Arab countries having conflicting views on the Syrian issue.
According to Reuters, evacuation operations were under way from rebel-held Aleppo after a ceasefire deal was reached on Thursday.
The ceasefire and evacuation are expected to end years of fighting in Aleppo between the Syrian government and its allied militias against rebels seeking to oust President Bashar Assad after revolting in 2011 during the Arab uprisings, Reuters reported.
Related Articles
May 04,2016
CAIRO — The Arab League said Wednesday it will strive to ensure that all of those behind mounting violence in the war-ravaged Syrian city of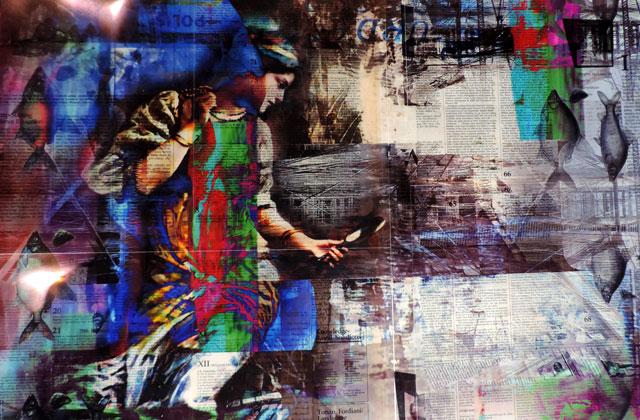 Sep 24,2017
AMMAN — Silence's capacity to convey a wide range of emotions, often more successfully than words themselves, is one of the ideas explored b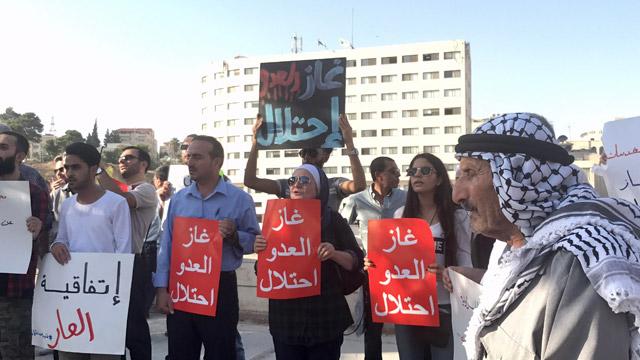 Jul 04,2017
AMMAN — Jordanian activists on Tuesday decried "Parliament's silence" over the gas deal with Israel which was signed by the state-owned Nati
Newsletter
Get top stories and blog posts emailed to you each day.