You are here
Jordanians plan more pro-Jerusalem protests
By Mohammad Ghazal , Petra - Dec 10,2017 - Last updated at Dec 10,2017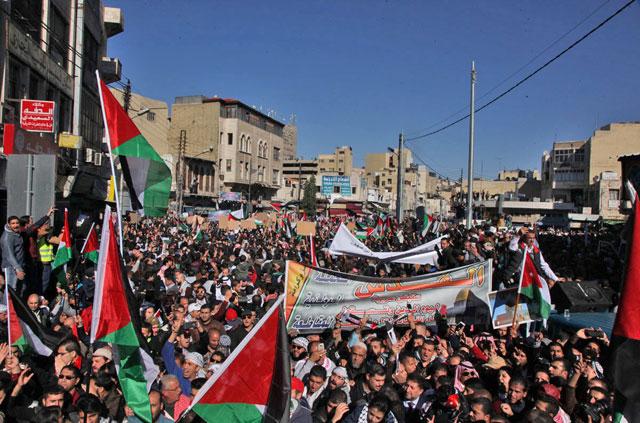 More than 20,000 protesters took part in the largest rally nationwide on Friday in downtown Amman to protest US President Donald Trump's decision (JT photo)
AMMAN — Jordanians on Saturday continued their protests against US President Donald Trump's decision to recognise Jerusalem as the capital of Israel, with more activities and functions planned for the week.
On Saturday, dozens of Jordanians carrying national flags gathered in front of the US embassy in Abdoun to protest Trump's decision, while other rallies were reported in other towns and areas following a "day of rage" Friday, when dozens of thousands of Jordanians from all walks of life and political spectra took to the streets to condemn and reject the decision.
Peaceful demonstrations were reported in more than 30 locations in Amman and other towns across the country.
Later in the day, His Majesty King Abdullah tweeted: "Jordanians are always the centre point of this nation, and what they have shown today is a strong feeling towards Jerusalem, our first issue, with unmatched cohesion and brotherhood, which reflects the dignity of our people, a source of pride for me and for every Arab. God bless Jordan and its people as a shield and a bond to our nation and its people".
Her Majesty Queen Rania also tweeted: "Today Jordanians stood united in solidarity with #Jerusalem & its Arab identity. A stand that emphasized the strong connection between Jordanians & the Palestinian cause."
"Today we mourn the loss of more of Jerusalem's heroes, who gave their lives defending the city's Arab identity. May God have mercy on the martyrs and protect our brothers and families in #Jerusalem."
On Saturday, Prime Minister Hani Mulki stressed that Jordanians proved they are the pulse of the nation, citing the way they stood up in solidarity with Jerusalem.
Speaking during a visit to Karak, he underlined Jordan's full support for the legitimate rights of the Palestinians, the necessity of ending the occupation, establishing an independent Palestinian state on the Palestinian land with East Jerusalem as its capital.
Regarding planned activities, President of Amman Chamber of Commerce Issa Murad has called on the commercial sector to close down their shops on Sunday from 12 noon until 1pm in solidarity with Jerusalem.
In a post he shared on his Facebook page, which was later shared by media outlets, Murad said the step is taken in protest against the decisions by US President Donald Trump to move the American embassy to Jerusalem and to recognise it as the capital of Israel.
Other civil society institutions followed suit, including Jordan Bar Association, it was reported.
Meanwhile, Patriarch Theophilos III of Jerusalem on Saturday called on churches to hold their Sunday prayers for Jerusalem, its sanctities and its people and all those who love it to pray for it in the shadow of its ordeal.
The Orthodox patriarch said in statement that prayers should be made for just and peace, and to stop the violations in the Holy Land. He added that the Christians of the Holy Land always stand with Muslims in the defence of Jerusalem, which is a place for all monotheist religions.
Friday's rallies, in a rare occurrence, were encouraged by officials and political groups alike, including the opposition.
In a statement later Friday, police commended the level of responsibility exhibited by participants in the rallies, which saw almost zero friction with security forces.
In the largest rally nationwide in downtown Amman following Friday's prayer, several thousand demonstrators chanted slogans against the US and Israel and voiced solidarity with the Palestinians in the face of the US administration's decision.
Jordanians from all walks of life and representatives of different parties including the communist, leftist and Islamic parties took part in the demonstration in downtown Amman, where police were deployed.
"We are here to express our anger regarding the illogical and childish decision by Trump. The US claims to be seeking peace, while what it is doing on the ground is always the opposite," Mohammad Al Nawaiseh, 56, told The Jordan Times during the protest.
"Jerusalem is not only for the Palestinians or the Jordanians, it is for all Arabs and Muslims who should not remain silent," said Nawaiseh.
Samer Abu Steif, a 45-year-old carpenter and a resident of Jabal Al Joufeh in east Amman, said he took part in the demonstration to send a clear message that "all Arabs and Muslims are against the decision".
"It is unbelievable to see the Zionists entity killing Palestinians, building settlements, occupying our lands and now take Jerusalem. It is heartbreaking to see no serious reactions from the Arab and the Islamic world," said Abu Steif.
"Recognising Jerusalem as a capital for the Zionists is a crime at all levels and a reward for the murders and occupiers," said Abu Steif.
During the protest, demonstrators burnt Israeli and American flags and called for severing ties with Israel and abolishing the Wadi Araba peace treaty, which Jordan and Israel signed in 1994.
Related Articles
Dec 08,2017
AMMAN — Jordanians from all walks of life and political spectra took to the streets on Friday to condemn and reject US President Donald Trum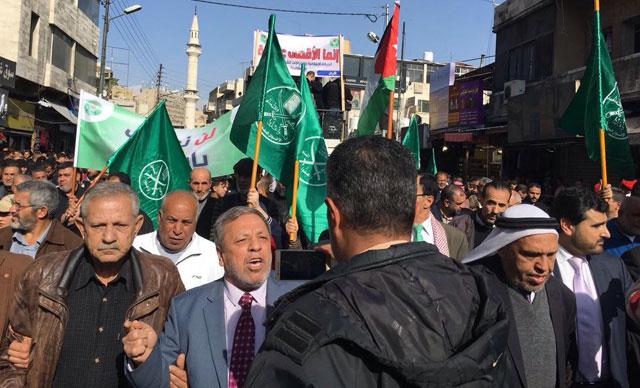 Jan 13,2018
AMMAN — Scores of people marched in downtown Amman on Friday in protest against US President Donald Trump's decision to move the US embassy
Dec 08,2017
AMMAN — The largest opposition group, the Muslim Brotherhood, has called for wide protests across the Kingdom in response to the US decision
Newsletter
Get top stories and blog posts emailed to you each day.