You are here
Jordanians say car bomb attack will only strengthen Kingdom's resolve to fight terror
By Mohammad Ghazal - Jun 22,2016 - Last updated at Jun 23,2016
Jordanians and visitors hold a candlelight vigil outside the Professional Associations Complex in Amman on Tuesday in memory of the Jordanian troops who were killed near the border (Photo by Muath Freij)
AMMAN — The terrorist attack that claimed the lives of six Jordanian troops and injured 14 others will make Jordan stronger and more resilient to uproot terrorism wherever it occurs, experts, officials and social media activists said Tuesday.
Jordanians condemned the car bomb attack in Rakban as "cowardly", noting that the terrorists had resorted to attacking a route used by Syrian refugees seeking a safe haven in Jordan.
The terrorists targeted a military post dedicated to serving Syrian refugees at a makeshift encampment in the border area.
Four border troops, a member of the Civil Defence Department and a Public Security Department (PSD) officer were killed. Nine PSD officers were among the 14 injured, the army said.
Retired major general and strategic analyst Adeeb Sarayreh said terrorists constantly target Jordan, and are almost always thwarted.
"This heinous terrorist attack did not come as a surprise. There are attempts by several terrorist organisations to infiltrate Jordan's security every day and it is normal that out of hundreds and thousands of attempts the terrorists succeed in one," Sarayreh told The Jordan Times.
But their broader goal of destabilising Jordan will never be achieved, the pundit said, adding that targeting the army on a route used by refugees seeking entry to Jordan shows the "sick mentality and barbarity" of the terrorists.
"Jordan is hitting them hard. Jordan is at the forefront in the fight against terror and so it is expected that the terrorists will target it. Therefore, we need to remain more vigilant to foil their schemes," Sarayreh added, stressing that the terrorist attack will make Jordan more determined to uproot terrorism.
Commenting on the attack on her official Facebook and Twitter accounts, Her Majesty Queen Rania said the "martyrs of the homeland" are destined for heaven, expressing solidarity with and support for their families.
"Our martyrs gave their lives today defending humanity and #OurJordan. May their blessed souls rest in eternal peace," HRH Crown Prince Hussein said in a post on his Intagram page.
"#Jordan remains a solid rock in the face of terrorism, and our selfless soldiers will always stand strong and brave," he added.
Deputy Prime Minister and Minister of Foreign Affairs and Expatriates Nasser Judeh vowed that terrorists will be defeated.
"Terrorists strike again. This time against our border guard," the minister said in a tweet.
"A number of fallen and injured Jordanian heroes; this evil will be defeated," said Judeh.
Also on Twitter, Jordanians condemned the attack and stressed the Kingdom's determination to defeat terrorism.
"All Jordanians are united in the face of terrorism…Those killers target our heroes in the holy month of Ramadan," Hassan Samhan (@HassanAlsamhan) tweeted.
Alaa Tawalbeh (Royal_spirit888) said Jordan will remain strong.
"We will continue to be strong and determined in the face of those haters," she tweeted.
"Our strength is in our unity, this attack will never weaken us," Ahmad Salam (@ahmed-sal321) wrote on Twitter.
Akram Homoud (@AkramHomoud) tweeted: "Is there anyone nastier than a gang that attacks us via routes used by refugees who [seek] safer havens. Glory for our martyrs and disgrace for the attackers."
Related Articles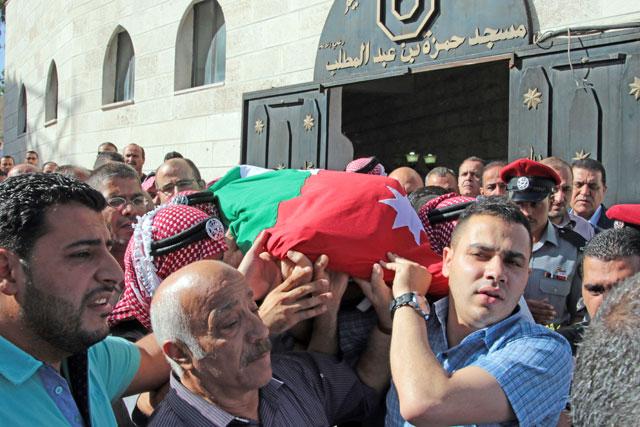 Jun 07,2016
AMMAN — Jordanians on Monday condemned the "barbarity and inhumanity" of the terrorist attack that killed five intelligence personnel at daw
Dec 19,2017
AMMAN — His Majesty King Abdullah on Monday, on the first anniversary of the Karak attacks, took to Twitter to remember those who lost their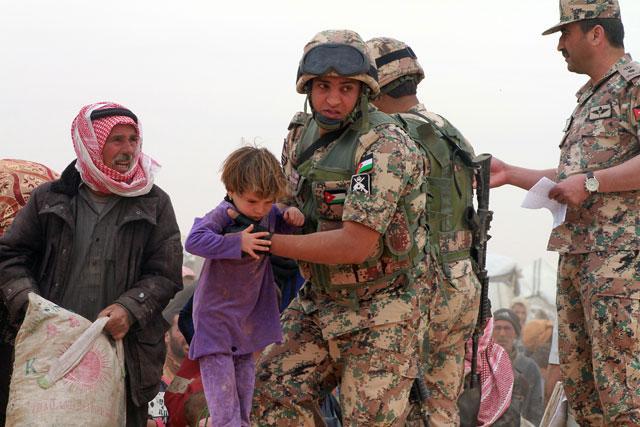 Jun 21,2016
AMMAN – Six Jordanian troops were killed and 14 others injured Tuesday when a booby-trapped car struck a forward military post at the
Newsletter
Get top stories and blog posts emailed to you each day.