You are here
Jordanians show support for His Majesty's position on Jerusalem, Palestinian cause
Citizens rally across Kingdom to reaffirm consolidated stand on Palestine
By JT - Apr 18,2019 - Last updated at Apr 18,2019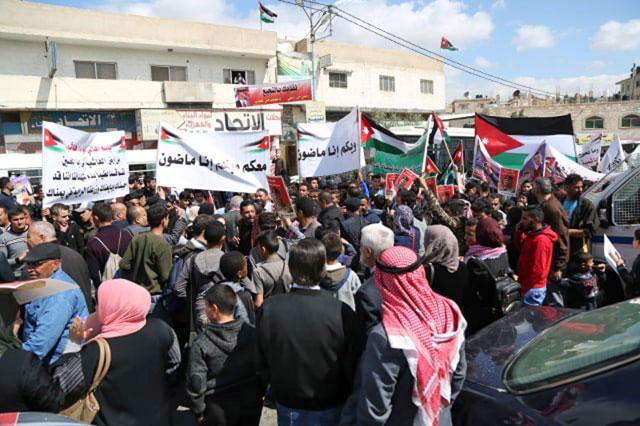 Demonstrators in Al Hashimiya rally to show support for His Majesty King Abdullah's stances on Palestine, Jerusalem and the Hashemite Custodianship (Petra photo)
AMMAN — Jordanians in the Northern Jordan Valley, Aqaba and Zarqa on Thursday rallied across different parts of the Kingdom to express support for the Hashemite Custodianship of Jerusalem and His Majesty King Abdullah's position on the Palestinian cause.
In Aqaba, citizens rallied to reaffirm their support for the King's historic role in Jerusalem and the preservation of the Holy City's Islamic and Christian sites and identity.
They also commemorated the fallen Jordanian soldiers who gave their lives in defence of the occupied city and the sacrifices Palestinians laid for Palestine and Jerusalem.
In Zarqa's Al Hashimiya district, citizens took to the streets, chanting slogans and holding up banners expressing their rejection of the Israeli occupation's measures in Jerusalem.
Citizens also expressed their refusal of the so-called "deal of the century" and the "alternative homeland", calling for the implementation of international legitimacy resolutions.
In the Northern Jordan Valley, citizens organised a number of activities reaffirming their support for His Majesty's stance and their readiness to make whatever sacrifice necessary for the sake of Jerusalem.
In Amman, the General Federation of Jordanian Trade Unions also made a statement on Thursday, expressing their support of the Hasehmite Custodianship of Jerusalem.
The federation condemned the occupation's transgressions against the identity of occupied Jerusalem and attempts to Judaise its Islamic and Christian heritage, the statement said.
The president of the federation, Mazen Maaytah, said that the unions are keeping note of the ongoing developments, especially with regards to the incursions against Islamic and Christian holy sites in Palestine.
Newsletter
Get top stories and blog posts emailed to you each day.