You are here
Jordan's ancient history 'comes home'
By Saeb Rawashdeh - Feb 19,2020 - Last updated at Feb 19,2020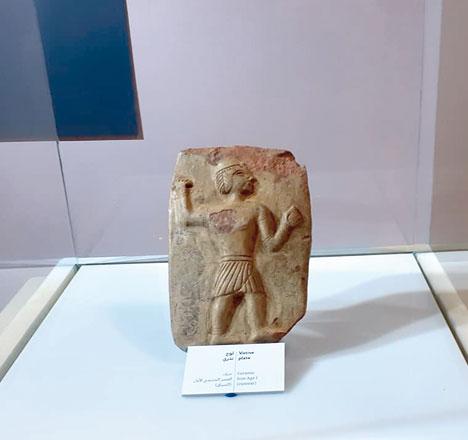 A ceramic plate dating to the Early Iron Age depicts a man in a battling position (Photo by Saeb Rawashdeh)
IRBID — After being on display at the Jordan Museum from July through December 2019, the exhibit "Tall Ziraa — Mirror of Jordan's Ancient History" opened on Tuesday at Yarmouk University's Museum of Jordanian Heritage in Irbid, with a scheduled duration of five months.
The opening was attended by representatives from Yarmouk University, the Department of Antiquities (DoA), the Jordan Museum, the German Protestant Institute of Archaeology (GPIA) and other concerned entities.
"The exhibition came home, since the site at Tall Ziraa is located in the northern part of the country," GPIA Director Katharina Schmidt told The Jordan Times at the opening.
The exhibition was financed by the German Foreign Office and the event was organised by the DoA as well as President of Yarmouk University Zeidan Kafafi and Dean of the Faculty of Archaeology and Anthropology at Yarmouk University Hani Hayajneh, Schmidt noted.
According to German archaeologist Jutta Häser, Tall Ziraa is one of the most important archaeological sites in the country and offers insights into 5,000 years of settlement history.
She emphasised that archaeological research on the site was carried out from 2001 to 2014, led by Professor Dieter Vieweger and herself.
One of the exhibition's highlights is a ceramic plate depicting a man — probably a king — in a battling position with an arm raised to slay his enemies, Häser said.
The standing person is executed in high relief whereas his defeated enemies are shown as four heads scratched into the surface of the plate, the archaeologist noted, adding that the back of the plate, which dates to the Early Iron Age (1200-1000 BC) has a recess, suggesting that it was fixed to something.
Several glass objects from the site attest to the presence of a glass production on or close to Tall Ziraa during the Late Bronze Age (1,550-1,400 BC), she said.
The exhibit also includes a floor mosaic with a Greek inscription which "shows that there was a monastery at Tall Ziraa during the Byzantine period [324-636 AD]", Häser added.
Related Articles
Mar 06,2018
AMMAN — Two German books — "Das Geheimnis des Tells" (Secrets of the Tell) and "Tell Ziraa: The Gadara region Project (2001-2011)" — were la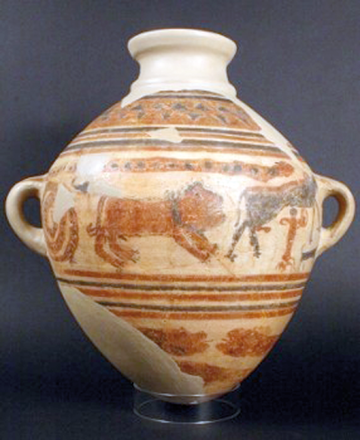 Oct 20,2022
AMMAN — A number of objects have been excavated from Tell Zira'a (located around five kilometres southwest of ancient Gadara) by the German
Apr 24,2019
AMMAN — A good background in photography can be more important than a classical archaeological education when taking photos of archaeologica