You are here
Jordan's stance towards Palestinian cause duty and honour — King
His Majesty meets with Palestinian refugee camps' dignitaries, representatives
By JT - Nov 07,2018 - Last updated at Nov 07,2018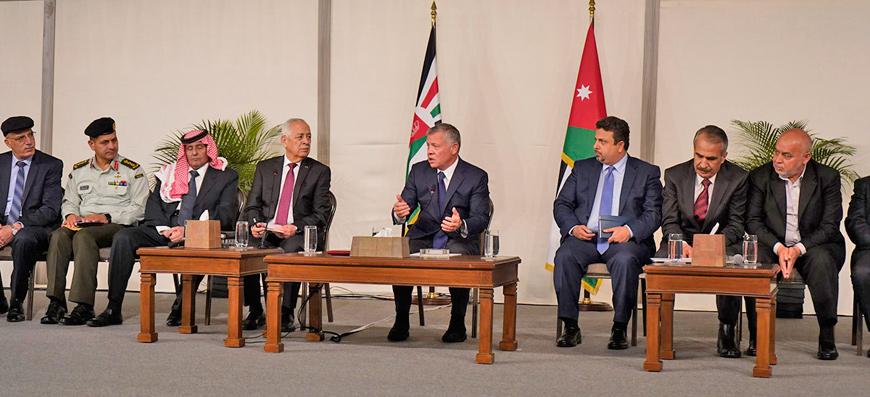 His Majesty King Abdullah meets with dignitaries and representatives of Palestinian refugee camps in the Kingdom at the Royal Court on Wednesday (Photo courtesy of Royal Court)
AMMAN — His Majesty King Abdullah on Wednesday received dignitaries and representatives of Palestinian refugee camps in the Kingdom, as part of His Majesty's continuous meetings with various segments of the Jordanian community.
King Abdullah expressed his pride in meeting them at the Royal Hashemite Court, saying: "I welcome you at the house of all Jordanians and I'm proud to be among my brothers and family today," according to a Royal Court statement.
Talks during the gathering addressed local and regional developments.
His Majesty stressed that the Palestinian cause is Jordan's top issue, adding that the Kingdom's stance towards the cause is fixed and cannot be changed.
"All know our stance. It is well known and will not alter; it is a duty and an honour," the King said.
Locally, His Majesty said that challenges facing Jordanians are associated with the economic conditions, poverty and unemployment, which requires drawing up a programme to create jobs, attract investments to various areas of the Kingdom and develop the infrastructure.
King Abdullah also highlighted the importance of cooperation among all state institutions, to alleviate the challenges and burdens facing refugee camps.
The King directed stakeholders at the Royal Court to visit all refugee camps, to check on their needs and the challenges facing them.
The dignitaries expressed their pride in His Majesty's efforts exerted to support Palestinians in their endeavours to receive their legitimate and fair rights.
They also voiced appreciation for the historical Jordanian role in defending the Islamic and Christian holy sites in Jerusalem, under the Hashemite Custodianship.
Royal Court Chief Yousef Issawi noted that the court, over the past few years, has implemented several initiatives in refugee camps, including the establishment of 11 comprehensive development centres, 11 stadiums for sports clubs that also received transportation means and nine care centres for people with disabilities.
Issawi added that the initiatives also included the maintenance and rehabilitation of 117 houses of underprivileged families and building and furnishing eight multiple-purpose halls.
Newsletter
Get top stories and blog posts emailed to you each day.