You are here
KASOTC: State-of-the-art special operations training
By Linda Hindi - Jun 08,2014 - Last updated at Jun 08,2014
AMMAN — In the midst of blasted-out canyons, just north of Amman, elite military and law enforcement units from Jordan and around the world are learning advanced mission tactics in a massive facility that simulates real-world war conditions including live-fire weapons.
The King Abdullah Special Operations Training Centre, known as KASOTC, spans 25 square kilometres and features $200 million worth of high-tech buildings and equipment for training in special operations, irregular warfare and counterterrorism procedures; it is part of a corporate venture between Jordan and the US to train and develop the capabilities of friendly forces.
"It's a think tank and laboratory for modern military operations," according to the centre's promotional materials.
KASOTC features an advanced technological system that provides users with live explosions and battle sound effects that add to the realistic battlefield environment. A fibre-optic network serves as the nerve centre that connects to the range operations control and commands the hundreds of cameras, moving targets and war simulator equipment.
Retired soldiers from Jordan's Special Forces are the instructors who handle all the training.
"Every move of an operation is filmed and then scrutinised with the trainees and subject experts in the classrooms…They go over what went right and wrong," Colonel Ibrahim Alharahsheh, Deputy Director of KASOTC told The Jordan Times during a drive around the training grounds.
A tour of KASOTC is a little like watching snapshots of preparations for an unknown war.
That particular day around 600 multinational soldiers trained in clusters.
The groups, about the size of a platoon, were outfitted in their nation's army wear; some were struggling to reach the top of a steep rock hill using ropes and each other for support, others jogged near the football field.
A Tanzanian special operations squad stood straight-backed and listened intently as a trainer pointed to a map surrounded by M4 and Glock pistols that were spread out on the ground.
They were being trained to guard US embassies in different parts of the world.
As the Jeep passed by an unimpressive looking swamp for training, Alharahsheh joked: "You think that's easy? Try lugging 70 pounds of gear on your back and running through that mud."
A short hike up a hillside gives view to a replica of an Afghan hut built with mud and rocks; it is the first model from what is set to be a mini-Afghan village.
"Real structures are important when training; even its components make a difference with the type of explosives that should be used and what are different methods of entry," the colonel explained.
The for-profit centre refers to different countries as "clients" and ultimately caters to the "user' needs, meaning training does not necessarily have to be within the KASOTC base. A typical week of training can cost up to $250,000, all inclusive of food, lodging and ammunition.
"Sometimes the client needs to use forest terrain or mountain operations or enhance desert-patrolling skills. With an approval from the JAF, we train elsewhere and tailor packages to suit the need," the officer said.
Urban warfare
Heading south, we reach the "closed quarters battle house"; the "house" is really a two-storey armoured building with an adjoining three-storey tower where trainees practise day and night raids under simulated war conditions using assault rifles, hand guns and sub-machineguns. In the same area there are an additional 56 structures that form the "urban area" with replica government buildings, a bank, school and hospital.
The K9 unit sells dogs after about 90 days of onsite training in narcotics and explosives detection.
At the foot of a 200m cliff sits a full Airbus 300 aircraft model for linear assault and sky marshal training. On one of KASOTC's promotional videos, it features the reenactment of an ambush on a head of state; after he waves and descends the plane's stairs a rush of operatives shelter him with a bulletproof shield, shove him in a car and use skid manoeuvring skills in a chase.
"We care about heads of state," KASOTC's CEO, Brigadier General Aref Al Zaben told The Jordan Times.
The commander explains that KASOTC was realised through the vision of His Majesty King Abdullah who had worked hands-on all the way through to the planning of training curricula and design of the centre.
As the Supreme Commander of Jordan's Armed Forces, King Abdullah has a deep-rooted history in the army moving up the military ranks.
As a young prince he was commissioned as commander of Jordan's Special Forces in 1993, and later commander of the new Special Operations Command (SOCOM) in 1996. In 1998, he was promoted to the rank of major general, according to His Majesty's website.
"He is way ahead of leaders in the region… a legendary leader in fact in his way of thinking," Zaben said.
According to the centre's commander, the King has a vision to build a counterterrorism academy to specifically work on fighting extreme ideologies and plans are already in place for a counter-piracy training base in Aqaba.
"Maritime terrorism has become a world threat as you know," Zaben said.
During the meeting, KASOTCs business Manager, Ayman Masri wanted to illustrate how KASOTC is helping make "our neighbours stronger".
Masri who has 26 years of law-enforcement experience in the US and was assigned, Post 9/11, to the FBI's homeland security joint-terrorism task force, described the recent training of a swat team from the Palestinian National Forces "who really came ill-equipped in terms of experience," he said adding "In a week we had to teach them how not to lose their life".
Within a week of their return they had to deal with a real hostage situation and were able to negotiate a surrender and release the hostages safely... the bottom line is getting the job done right," he said.
Related Articles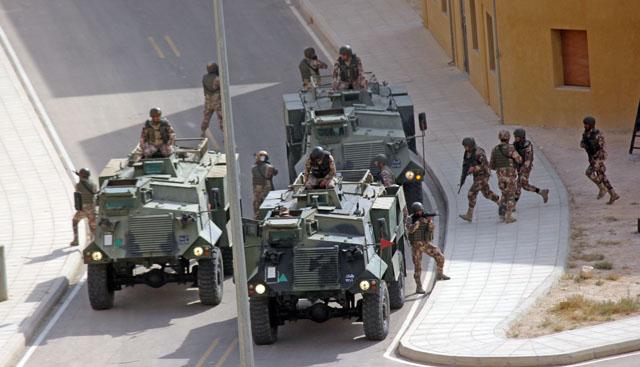 Jun 08,2014
"When you talk about security in the region, Jordan is in the eye of the tornado," Brigadier General Aref Al Zaben, CEO of the King Abdullah II Special Operations Training Centre (KASOTC), said.
Apr 29,2018
AMMAN — A conference was held on Sunday at the King Abdullah II Special Operations Training Centre (KASOTC) on the 10th annual international
Apr 07,2014
The Jordan Armed Forces will host the sixth Annual Warrior Competition, which will be held at the King Abdullah II Special Operations Training Centre (KASOTC).
Newsletter
Get top stories and blog posts emailed to you each day.