You are here
Kazakh president scheduled to visit Jordan to give 'new momentum' to bilateral cooperation
By Mohammad Ghazal - Dec 27,2016 - Last updated at Dec 27,2016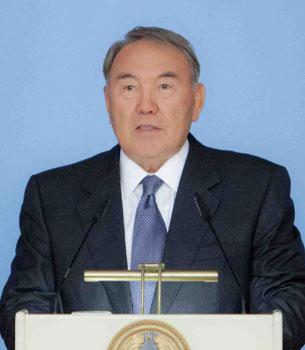 AMMAN — President of the Republic of Kazakhstan Nursultan Nazarbayev is expected to visit Jordan next year, according to Kazakh Ambassador Azamat Berdibay.
The visit, upon the invitation of His Majesty King Abdullah, is intended to give "new momentum" to the development of cooperation between Astana and Amman on issues of mutual interest, the ambassador said in a recent interview with The Jordan Times.
"Relations between Kazakhstan and Jordan in the political, economic, cultural and humanitarian spheres are… on the rise… [and] the two countries have maintained regular political dialogue," Berdibay added.
On potential fields of cooperation, the ambassador said he hopes that there will be further development of trade and economic relations.
At present, cooperation between Kazakhstan and Jordan is particularly focused on agriculture, energy, pharmaceuticals and tourism.
Berdibay spoke of the "well-developed" pharmaceutical industry in Jordan, noting the possibility of launching "joint enterprises" for the production of different medical supplies on Kazakhstan territory.
Jordanian businesses are already investing in the Kazakhstan economy, and an increasing number of Jordanian companies are entering the Kazakh market, the ambassador said.
There are currently 71 joint Kazakh-Jordanian registered companies in Kazakhstan, 31 of which operate in different sectors of the economy. The volume of mutual investments is $12.6 million, according to figures cited by Berdibay.
The two countries are working to increase the volume of trade exchange, open new channels of economic cooperation and offer the requisite facilities to encourage private sector investment, with a view to establishing joint projects and mutual investments in both states.
During the 23-year history of diplomatic relations between Amman and Astana, the two sides have established very good relations, Berdibay said, adding that they share similar points of views on most regional and global issues.
The two countries, he noted, have managed to enhance trade, economic and investment cooperation.
Moreover, the Kazakh-Jordanian Intergovernmental Committee on Trade, Economic, Cultural and Humanitarian Cooperation, and the Joint Business Council have held several meetings.
The Kazakh ambassador praised Jordan as an active supporter of interreligious dialogue and reconciliation, ethnic and religious tolerance and peaceful coexistence between the followers of all religions in the Middle East.
"Kazakhstan shares the vision of His Majesty King Abdullah in solving problems [through] the interaction of world religions and denominations, as reflected in the Amman Message… [and] the World Interfaith Harmony Week," he said.
Related Articles
Dec 09,2015
AMMAN — Building on a history of bilateral relations between Kazakhstan and Jordan spanning more than 20 years, the Kingdom has become
Sep 07,2016
AMMAN — The fourth meeting of the Joint Jordanian-Kazakh Committee commenced on Wednesday in Astana with the participation of representative
Nov 30,2014
Kazakh Ambassador in Amman Azamat Berdibay on Sunday said Jordanian companies can play a role in mega-projects to be implemented in his country over the next three years.
Newsletter
Get top stories and blog posts emailed to you each day.