You are here
King, Bishop Azar discuss Israel's new taxes on Jerusalem churches
His Majesty says Jordan to keep defending status quo of holy city
By JT - Feb 12,2018 - Last updated at Feb 12,2018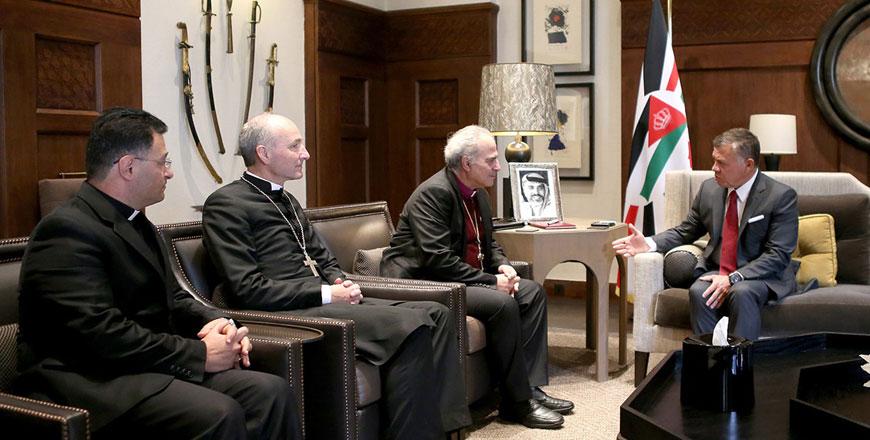 His Majesty King Abdullah meets with Bishop of the Evangelical Lutheran Church in Jordan & the Holy Land (ELCJHL) Ibrahim Azar in Amman on Sunday (Photo courtesy of Royal Court)
AMMAN — His Majesty King Abdullah on Sunday met with Bishop of the Evangelical Lutheran Church in Jordan and the Holy Land (ELCJHL) Ibrahim Azar and an accompanying delegation, a Royal Court Statement said.
The mee ting, held at Al Husseiniya Palace, focused on the efforts of Jordan, led by His Majesty, to defend the holy places in Jerusalem and preserve their Arab identity, and encounter attempts to change its status quo.
The King stressed that Jordan will continue to undertake its historical and religious role as protector of Islamic and Christian holy sites in Jerusalem, in line with the Hashemite custodianship, with the aim of preserving the Arab, Muslim and Christian identity of the city.
For his part, Azar highlighted the importance of the Hashemite custodianship for protecting the holy places.
He commended His Majesty's pro-peace efforts to bring about stability in the region, promote dialogue and spread the values of tolerance and moderation.
The bishop outlined the challenges that face the holy city, in light of Israel's intention to levy taxes on properties of churches, which used to be exempted.
Royal Court Chief Fayez Tarawneh and the King's Office Jafar Hassan attended the meeting.
ELCJHL has elected Azar as its bishop to succeed Bishop Munib Younan.
Related Articles
Dec 19,2017
AMMAN — Christian religious and non-clergy figures on Monday hailed and reaffirmed the messages of church leaders conveyed during a meeting
Jul 21,2017
AMMAN — Heads of churches in Jerusalem on Thursday warned against any changes to the historical status quo in Jerusalem as the city continue
Dec 27,2017
AMMAN— Deputising for His Majesty King Abdullah, Tourism Minister Lina Annab on Monday attended the Christmas midnight mass at Bethlehem's C
Newsletter
Get top stories and blog posts emailed to you each day.