You are here
King, Crown Prince join Eid Al Fitr prayer at Aqaba Mosque
His Majesty exchanges congratulations with Arab countries' leaders
By JT - Jun 18,2018 - Last updated at Jun 19,2018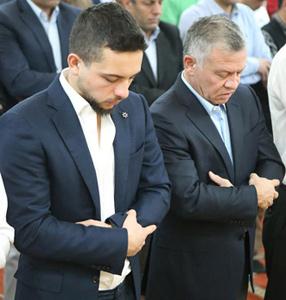 His Majesty King Abdullah and HRH Crown Prince Hussein join worshippers in the Eid Al Fitr prayer at the Royal Guards Mosque in Aqaba on Friday (Photo courtesy of Royal Court)
AMMAN — His Majesty King Abdullah and HRH Crown Prince Hussein on Friday joined worshippers in performing Eid Al Fitr prayer at the Royal Guards Mosque in Aqaba.
King Abdullah and the worshippers listened to a sermon by Sheikh Mohammad Hteibat on the social and religious meanings of Eid Al Fitr, in which he highlighted the value of the holy month of Ramadan and the Eid, according to a Royal Court statement.
Eid Al Fitr, which marks the end of the fasting month of Ramadan, this year started on June 15 and was followed by a four-day holiday from June 15 to 18, the Jordan News Agency, Petra, reported.
The King on Friday exchangedcongratulations over the phone with a number of leaders of Arab countries on the occasion of Eid Al Fitr.
His Majesty exchanged congratulations with His Majesty King Mohammed VI of the Kingdom of Morocco, His Majesty King Hamad Bin Isa Al Khalifa of the Kingdom of Bahrain and His Highness Sheikh Tamim Bin Hamad Al Thani, emir of the State of Qatar, according to a Royal Court statement.
Newsletter
Get top stories and blog posts emailed to you each day.