You are here
King directs gov't to trim benefits of top-layer officials
By JT - Jan 12,2017 - Last updated at Jan 12,2017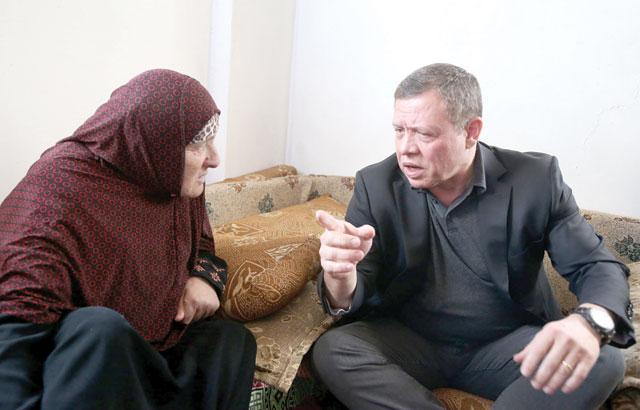 His Majesty King Abdullah speaks with an elderly woman at her house in Ajloun on Wednesday (Photo courtesy of Royal Court)
AMMAN — His Majesty King Abdullah on Wednesday said that he had directed the government to reduce expenditures, including reductions in the benefits of high-ranking public officials.
He made the remarks as he visited Ajloun Governorate, where he met with local community leaders and inaugurated development projects, a Royal Court statement said.
The Monarch's austerity directives came as the government announced plans to hike gas prices and taxes to secure JD450 million, as part of a plan to narrow the budget deficit.
A day earlier, he told leading lawmakers that he wanted the government's plans to ensure protection for low- and medium-income segments.
In Ajloun, 70km northwest of Amman, the King inaugurated Kufranjah Dam, which will help ease water issues in the governorate. The JD29-million project has a capacity of 7.8 million cubic metres and was funded by the Abu Dhabi Fund for Development.
He also laid the cornerstone of a traditional costume factory which will provide 700 new jobs in Juneid District, labelled among the poorest communities in the Kingdom.
Meeting with local community representatives, the King said that "Jordan is strong and Jordanians are brave. In other countries, people run away from gunfire, while in Jordan, they rise to protect their country and its people."
He urged people to support the armed forces and security agencies, as every single day they carry out operations to protect Jordan and its people, often without public recognition.
"We are undergoing a regional rather than a Jordanian crisis," he said, stressing that Jordan's primary concern is the economy, as he underlined a serious unemployment issue in Ajloun.
In Ajloun, the priority is the provision of jobs, he said, and as he laid the cornerstone for the garment factory, the King stressed the importance of implementing productive, job-generating projects across the Kingdom to help residents.
He spoke of the need to protect underprivileged people and the middle class, especially in light of tough economic conditions, and the need for the government and Parliament to work together for the national interest.
As for municipal and decentralisation elections, His Majesty noted their significance, as they are designed to encourage people's participation in determining development priorities.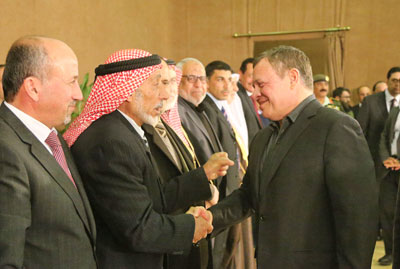 The Monarch said that Syrian refugees account for 20 per cent of the population of the Kingdom, with 25 per cent of the general budget allocated to dealing with refugee-related issues, underscoring the lack of meaningful international support to Jordan as it shoulders the burden.
Royal Court Chief Fayez Tarawneh said that His Majesty has directed officials at the Royal Court to implement several initiatives to complement government measures to better serve the people of Ajloun.
The initiatives include building 178 housing units for underprivileged families, the King Abdullah School for Excellence and three youth centres, as well as supporting a number of municipalities.
Future initiatives will focus on projects to enable families to establish their own small and medium enterprises and improve their income.
They will also include building a club for military retirees and more housing units, improving public parks and providing them with suitable entertainment facilities for children, and establishing a branch of the Zaha Cultural Centre.
Interior Minister Salameh Hammad outlined government projects which were accomplished in Ajloun, such as the Princess Haya Bint Al Hussein Military Hospital, a medical centre in Anjarah, Ajloun's water conveyance pipeline and several water wells in Safsafa.
Hammad also noted several government projects in the pipeline, such as rehabilitating the Dibeen forests, a cable car project and building new roads.
Local community representatives expressed their own concerns, urging the government to focus on projects that would create more jobs for residents, improve the infrastructure to suit Ajloun's mountainous nature, build an arterial road and find solutions to water shortages.
They also called for reviving the ancient "King's Road" that connects Ajloun with Amman, building a public university, amending the law of land subdivision by lowering the minimum allowed area to two dunums instead of four, and building more sports fields.
His Majesty visited an underprivileged family and checked on their situation.
Of the family of seven, two members have disabilities. The King directed officials to take measures to improve the family's living conditions by providing medical care and arranging for the maintenance of their house.
Related Articles
Aug 05,2017
AMMAN — The Royal Court on Saturday launched a Royal initiative for community empowerment in Ajloun Governorate, which aims to improve the l
Apr 10,2016
AMMAN — The Jordan Engineers Association (JEA) is looking to build a tourist resort in Ajloun's hilly area of Ras Munif. JEA President
Jan 11,2014
The Kitab and Sunna Society distributed 65 food parcels to underprivileged families in Ajloun's Kufranjah District on Saturday.
Newsletter
Get top stories and blog posts emailed to you each day.