You are here
King meets British intellectuals, politicians over regional challenges
By JT - Jun 25,2015 - Last updated at Jun 25,2015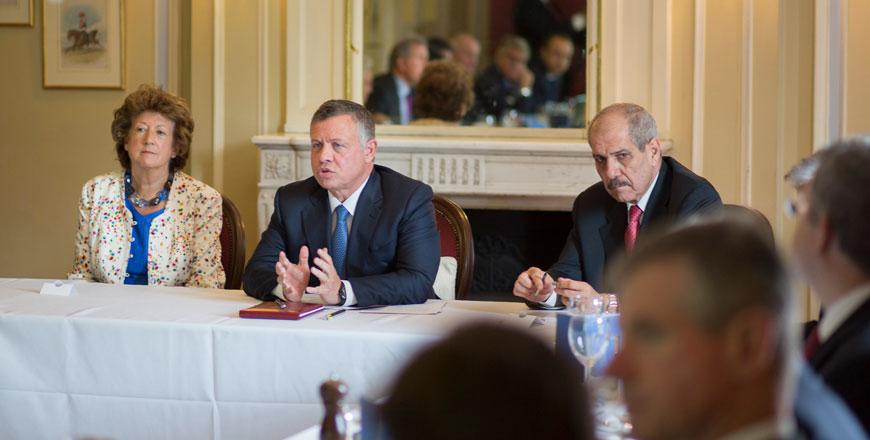 His Majesty King Abdullah meets with representatives of UK-based think tanks in London on Thursday (Photo courtesy of Royal Court)
AMMAN — His Majesty King Abdullah met on Thursday with leading political, intellectual and academic figures in London with whom he went over the current challenges in the Middle East.
Discussions also addressed the latest regional and international developments, and the King's perspective, regarding these issues, according to a Royal Court statement.
The King stressed the need for intensifying efforts to confront terrorism, radicalism and terrorist gangs, as they represent the foremost challenge in the Middle East, and in light of the threat they pose to regional and world stability and security.
King Abdullah also stressed the importance of heeding a comprehensive approach to confront terrorism in various parts of the world where terrorist gangs are thriving, especially in Africa and Asia.
He noted that the war on terrorism is not about military action, but is also a war of ideologies, reiterating that it is a war of Islam, so Arab and Islamic countries should lead this war, in a manner that serves the present and the future of their peoples.
Regarding the Middle East peace process, the King urged the international community to intensify its efforts to arrive at a comprehensive solution for the Palestinian-Israeli struggle, in accordance with the two-state solution.
Addressing developments in Syria, Iraq, Libya and Yemen, the King underscored the need to arrive at political solutions to end the crises in these countries.
Participants highlighted the importance of supporting efforts to combat terrorism, expressing their appreciation of Jordan's efforts in this regard.
They also underscored the role of Jordan, under the leadership of King Abdullah, in boosting chances to achieve peace in the region.
They expressed their understanding of the challenges that Jordan is handling as a result of hosting large numbers of Syrian refugees and other regional challenges.
In remarks to the Jordan News Agency, Petra, after the meeting, Alan Duncan, a member of the UK House of Commons, said the "in-depth" discussions covered regional issues, especially the situation in Syria and Iraq.
Stressing the importance of His Majesty's observations, Duncan said it is imperative that terrorism be addressed through an international perspective.
He commended the King's efforts regionally and internationally, noting that his leadership is a key element in the region and beyond.
UK Ambassador to Jordan Edward Oakden told Petra that His Majesty's visit presented an opportunity for the governments of the two countries to examine the best means to deal with strategic challenges.
Oakden cited Jordan and the UK's memberships in the Security Council and the international responsibilities they have to shoulder in that capacity, in addition to regional concerns.
The visit offered a chance for Britain to show its appreciation of the role Jordan is playing in hosting Syrian refugees, the ambassador said, adding that London also highlighted its efforts to assist Amman in this crisis.
Jordan's Ambassador in London Mazen Hmoud told Petra that the King's meetings with senior British officials and leaders enable Jordan to reach out to the most important and influential segment of decision makers in Britain's foreign policy.
This access to key figures helps Jordan convey its message during such a critical phase, especially on issues related to anti-terrorism and the comprehensive approach required to address it.
Hmoud said Britain is committed to supporting Jordan's efforts in hosting Syrian refugees, citing the latest assistance package announced by the government during His Majesty's visit.
A large part of that support, he said, is directed towards assisting host communities.
Related Articles
Jun 24,2015
AMMAN — His Majesty King Abdullah on Wednesday met with Secretary of State for Defence Michael Fallon in London, a Royal Court statement sai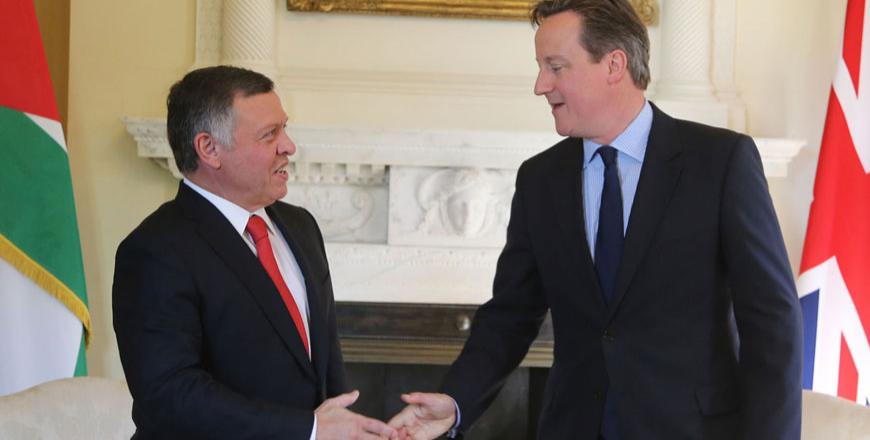 Jun 24,2015
AMMAN — His Majesty King Abdullah on Tuesday began his working visit to the UK with a meeting with Prime Minister David Cameron at 10 Downin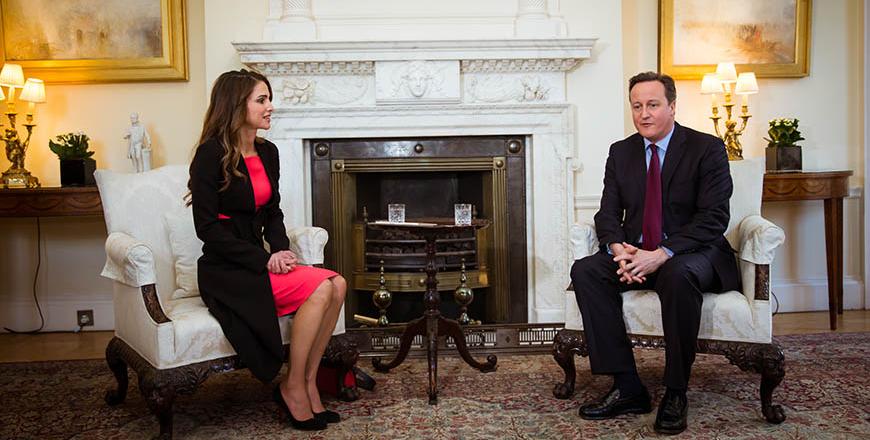 Jan 08,2016
AMMAN — Her Majesty Queen Rania on Friday met with UK Prime Minister David Cameron in London, and discussed ways to help Jordan address the
Newsletter
Get top stories and blog posts emailed to you each day.