You are here
King meets with int'l police, gendarmerie leaders
Delegates taking part in a conference of the Association of European and Mediterranean Gendarmeries and Police Forces with Military Status
By JT - Oct 16,2017 - Last updated at Oct 16,2017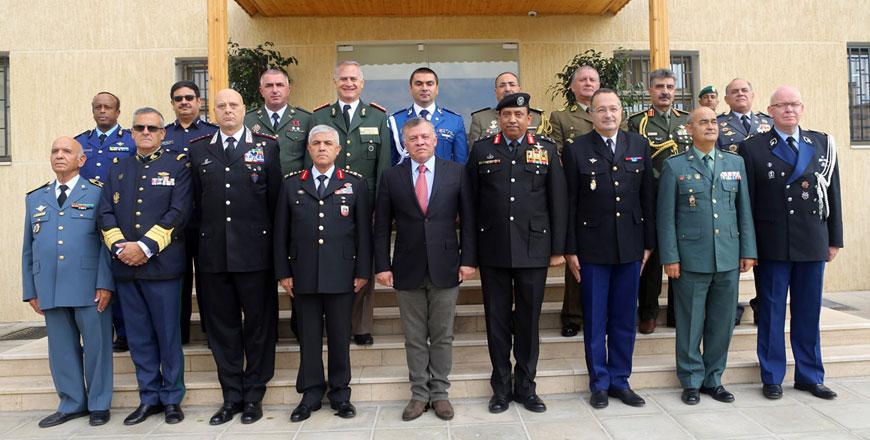 His Majesty King Abdullah poses for a group photo with top police and gendarmerie officers who are taking part in a global conference in Amman (Photo courtesy of Royal Court)
AMMAN — His Majesty King Abdullah, the Supreme Commander of the Jordan Armed Forces-Arab Army, on Monday visited the Special Police Operations Command affiliated with the Gendarmerie Department.
During the visit, King Abdullah met with chiefs and heads of delegations of security apparatuses taking part in the meeting of the higher council of the Association of European and Mediterranean Gendarmeries and Police Forces with Military Status (FIEP) being held in Amman between Sunday and Wednesday.
His Majesty, during the meeting, highlighted the importance of consolidating partnership among security and military institutions in the world, unifying international efforts in the war against terrorism and extremism, and combating crime, according to a Royal Court statement.
The Supreme Commander listened to a presentation by Gendarmerie Department Director Maj. Gen. Hussein Hawatmeh, in his capacity as FIEP chairman, on the main achievements the association realised during Jordan's presidency, as well as future plans and activities that aim at boosting cooperation and coordination among member security departments.
His Majesty also attended a briefing about the Gendarmerie Department's strategies that contribute to building its organisational and operational capabilities, in addition to cooperation and coordination mechanisms with local and international institutions, in a way that enables it to execute its mission "efficiently and professionally".
For their part, participants in the meeting commended the King's role in enhancing security and stability in the region and the world, highlighting the importance of boosting coordination among security and military institutions over various international issues of concern.
FIEP is an association of national gendarmeries or affiliated corps, encompassing the European and Mediterranean Gendarmeries and Police Forces with Military Status.
The goal of FIEP — which started with the corps of France, Italy, Spain, and Portugal — is to broaden and strengthen mutual relationships, to promote an innovative and active reflection on the forms of police cooperation, and to value its model of organisation and structures abroad.
FIEP wants to be recognised by the European authorities as a forum and a structure of separate police cooperation, capable of leading concrete actions.
Related Articles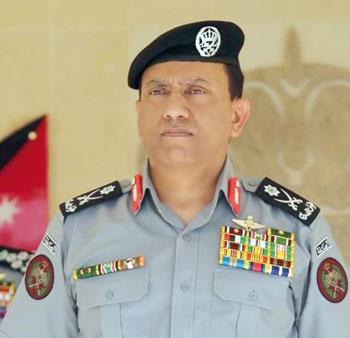 Oct 09,2017
AMMAN — The association of European and Mediterranean gendarmeries and police forces with military status (FIEP) will change its name to the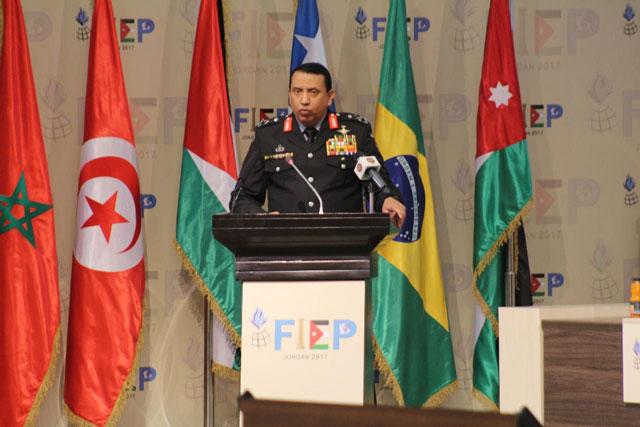 Oct 16,2017
AMMAN — The meeting of the Senior Council of General Directors and Commanders of the Association of the European and Mediterranean Pol
Nov 28,2016
AMMAN — Gendarmerie Department Director Maj. Gen.
Newsletter
Get top stories and blog posts emailed to you each day.