You are here
King meets UK premier over ties, region
His Majesty, visiting PM tour Special Operations unit
By JT - Apr 03,2017 - Last updated at Apr 03,2017
His Majesty King Abdullah meets with UK Prime Minister Theresa May in Amman on Monday (Photo courtesy of Royal Court)
AMMAN — His Majesty King Abdullah on Monday discussed with visiting UK Prime Minister Theresa May bilateral relations and international and regional developments, a Royal Court statement said.
Talks also covered enhancing cooperation in various fields, especially the military.
His Majesty expressed appreciation for the UK's support to Jordan, especially the assistance provided to help it cope with burdens ensuing from the refugee influx.
The King and the British premier also discussed the current regional issues, foremost of which are the Middle East peace process and the Syrian crisis.
At the meeting, King Abdullah expressed condolences to the premier for the losses of lives in the recent terrorist attack that took place outside the UK parliament in London, stressing his condemnation of such a heinous act.
For her part, May asserted her country's high regard of Jordan's efforts, led by His Majesty King Abdullah, in supporting peace and stability in the Middle East.
After the meeting, His Majesty, the Supreme Commander of the Jordan Armed Forces-Arab Army, and May visited the command of the rapid reaction forces, accompanied by Chairman of the Joint Chiefs-of-Staff Lt. Gen. Mahmoud Freihat, and HRH Prince Feisal.
The Monarch and the UK official were briefed on the unit's duties, tasks, and training programmes, in addition to the joint training, which is part of the cooperation between the two kingdoms.
His Majesty and May toured the facility and had a firsthand look at the vehicles and weapons used at the unit, which is a flexible, self-adapted military force characterised with high mobility and rapid response capabilities.
Also on Monday, Prime Minister Hani Mulki met with his UK counterpart. He outlined the various aspects and achievements in Jordan's reform drive, and the security and economic challenges that face the Kingdom due to the regional turmoil, the Jordan News Agency, Petra, reported.
Mulki reiterated the centrality of the Palestinian cause and the indispensability of the two-state solution, stressing the need to preserve the historical and legal status quo in Jerusalem, whose eastern part is internationally labelled as an occupied area.
He stressed that it would be illegal for any country to move its embassy to Jerusalem.
Related Articles
Jul 27,2016
AMMAN — His Majesty King Abdullah on Tuesday received a telephone call from UK Prime Minister Theresa May, during which they highlighted the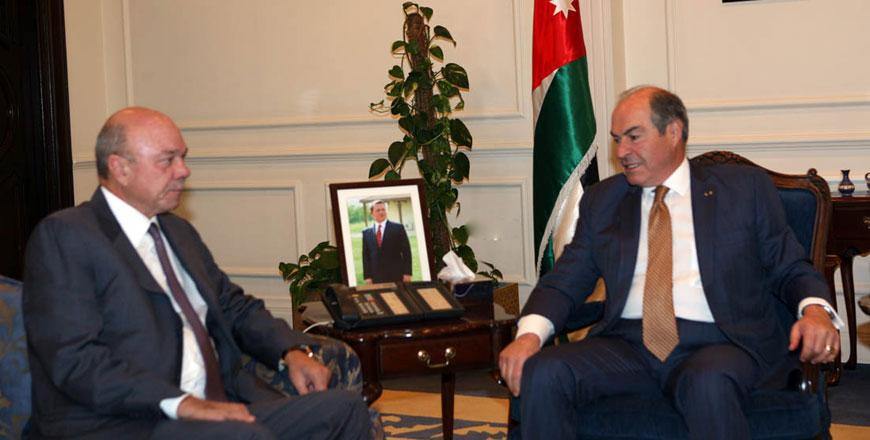 Oct 04,2016
AMMAN — Prime Minister Hani Mulki on Tuesday met with Senate President Faisal Fayez, the Jordan News Agency, Petra, reported.During the meet
Jun 14,2015
AMMAN — His Majesty King Abdullah on Sunday sent a cable of congratulations to UK's Queen Elizabeth II on the occasion of her birthday, the
Newsletter
Get top stories and blog posts emailed to you each day.