You are here
King: Our homeland will remain united against terrorism
Jordan marks 11th anniversary of Amman hotel bombings
By JT - Nov 09,2016 - Last updated at Nov 10,2016
His Majesty King Abdullah says Jordanians will continue to fight against terrorism, 11 years after the Amman hotel bombings (Photo by Amjad Ghsoun)
AMMAN — Jordan on Wednesday marked the 11th anniversary of the Amman hotel bombings, which killed 60 people and injured over 115.
"Today, we pay tribute to the martyrs of the Amman bombings," His Majesty King Abdullah said in a post on the Royal Court's social media channels.
The bombings, perpetrated by "the hand of treachery and criminality", have "fuelled our determination to fight the enemies of humanity", the King added.
"Our homeland, with the determination of its children, will remain united as one in the face of extremism, terrorism and the enemies of our tolerant Islamic religion," His Majesty said.
On November 9, 2005, a string of coordinated suicide bombings targeted the Radisson SAS Hotel — now known as the Landmark Hotel — Grand Hyatt and Days Inn hotels.
At the Radisson SAS, the suicide bombing targeted a wedding reception, killing 36.
Safa Mohammad Ali, Rawad Jassem and Ali Hussein Rishawi were identified as the bombers.
A fourth, Sajida Rishawi, was planning to blow herself up with husband Ali Hussein at the Radisson SAS but her explosive belt failed to detonate.
She was tried and sentenced to death for possessing explosives with illicit intent and plotting subversive acts that led to the death of individuals.
Rishawi was executed in 2015.
Six other people who were tried in absentia on the same charges were also sentenced to death.
Marking the anniversary, Prime Minister Hani Mulki said at a Cabinet meeting on Wednesday that the "painful memory of this brutal crime will only makes us more determined to fight" the forces "of evil and extremism", the Jordan News Agency, Petra, reported.
Paying tribute to the "martyrs of the homeland", Mulki said Jordanians of all stripes stand united with their Hashemite leadership and their armed forces.
He noted that Jordan will not be swayed from the path of reform, according to Petra.
In a statement carried by Petra and issued on the anniversary of the bombings, Theophilos III, Orthodox patriarch of the Holy City of Jerusalem and all Palestine and Jordan, commended Jordanians unity — Christians and Muslims — in the face of terrorism.
He also thanked King Abdullah for his continuing efforts to safeguard Christian and Islamic holy sites in Jerusalem, Petra reported.
Related Articles
Nov 08,2014
Jordan on Sunday marks the ninth anniversary of the Amman hotel bombings, when coordinated attacks targeted three of the capital's hotels in November 2005, killing over 60 people and injuring some 115.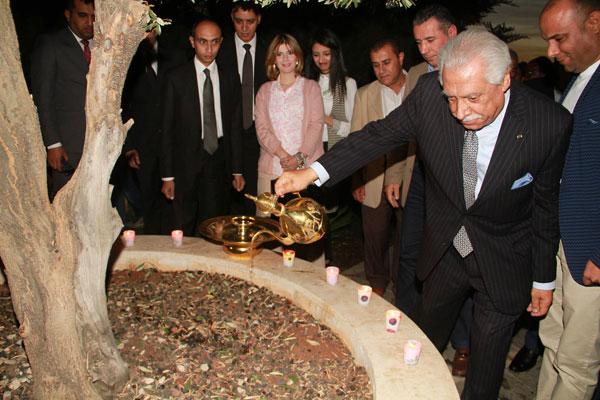 Nov 10,2016
AMMAN — The Greater Amman Municipality (GAM) on Wednesday held a ceremony to commemorate the 11th anniversary of the Amman hotel bombings at
Nov 08,2016
AMMAN — As Jordan today marks the 11th anniversary of the bombings that targeted three hotels in Amman, killing 60 people and injuring 115,
Newsletter
Get top stories and blog posts emailed to you each day.