You are here
King, Queen return home after New York, Paris visits
By JT - Sep 25,2014 - Last updated at Sep 25,2014
AMMAN — Their Majesties King Abdullah and Queen Rania returned home on Thursday after a working visit to Paris and New York, a Royal Court statement said.
In New York, the King delivered a speech at the Plenary Session of the 69th General Assembly of the United Nations, attended by HRH Crown Prince Hussein, during which he called for a comprehensive approach to address the security situation in Syria, Iraq and Lebanon.
King Abdullah also took part in the Clinton Global Initiative (CGI) opening panel discussions, which focused on challenges facing countries to create better opportunities for the younger generation, especially in the Middle East.
During the 10th annual meeting of the New York-based foundation, former US president Bill Clinton announced "commitments" by firms to help Jordan overcome challenges posed by regional crises.
At the panel, which also included Chile President Michelle Bachelet and was moderated by Clinton, the discussion also focused on economic issues, women's empowerment and terrorism.
King Abdullah also met with world leaders on the sidelines of the General Assembly meetings.
His Majesty, in the presence of Crown Prince Hussein, met with UN Secretary General Ban Ki-moon, Peruvian President Ollanta Humala, Mexican President Enrique Pena Nieto, Iraqi Prime Minister Haider Al Abadi, Australian Prime Minister Tony Abbott and Russian Foreign Minister Sergei Lavrov.
At the meetings, the King discussed regional developments, including the Palestinian-Israeli conflict, the Syrian refugee crisis, the unrest in Iraq and efforts to rebuild Gaza.
The officials commended Jordan's relief efforts in Gaza and its hosting of Syrian refugees, voicing appreciation of the Kingdom's activities to fight extremism and promote peace and security in the world and the region.
On Tuesday, King Abdullah attended a summit — hosted by US President Barack Obama in New York — of the coalition of countries participating in efforts to confront terrorism in the region.
The King also met with Iraq's President Fouad Massoum to discuss increasing cooperation.
Massoum thanked Jordan for its support to Iraq in its efforts to overcome various challenges and arrive at a better future for the Iraqi people.
At a meeting with Lebanese Prime Minister Tammam Salam, the King and the Lebanese official reviewed regional developments and means to strengthen ties between the two nations.
Discussions also covered challenges facing the region and ways to confront radicalism.
The Monarch also met with Italian Prime Minister Matteo Renzi, and discussed ties and the latest regional developments.
King Abdullah also met with David Miliband, president and CEO of the International Rescue Committee, with whom he reviewed efforts to deal with the issue of Syrian refugees hosted in neighbouring countries, as well as Jordan's relief efforts in this context.
In Paris, His Majesty held meetings with French President François Hollande, Prime Minister Manuel Valls, President of French National Assembly Claude Bartolone and French Senate President Jean-Pierre Bel.
Discussions focused on means to enhance Jordanian-French cooperation and also covered regional and international issues.
The Monarch also met with leading clerics in France and discussed their role and responsibilities as pillars of peace to disseminate values of tolerance and coexistence among the followers of the Abrahmic religions.
He briefed them on Jordan's efforts to defend Islam and refute negative attitudes towards Muslims that have emerged in the West as a result of the actions of extremist groups.
The scholars stressed the need to boost dialogue and focus on the joint commonalities between followers of different religions.
up
56 users have voted, including you.
Related Articles
Sep 18,2014
His Majesty King Abdullah on Thursday met with French Prime Minister Manuel Valls and several other French officials and religious leaders to discuss means to boost bilateral relations and the latest regional developments. 
Dec 18,2014
Prime Minister Abdullah Ensour on Thursday delivered a letter from His Majesty King Abdullah to Iraq's President Fouad Massoum that focused on strengthening bilateral relations and cooperation.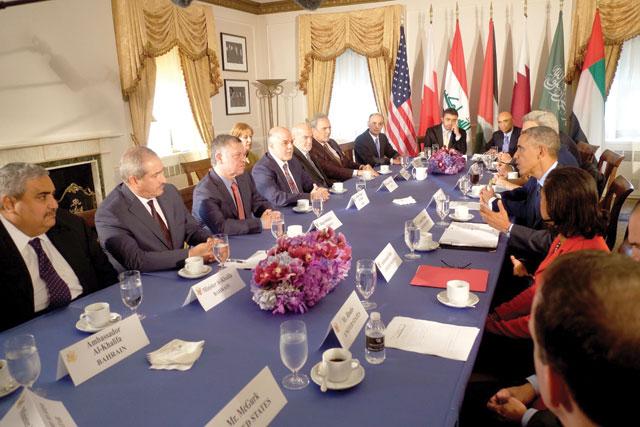 Sep 25,2014
His Majesty King Abdullah on Wednesday met with world leaders currently participating in the 69th UN General Assembly meetings held in New York.
Newsletter
Get top stories and blog posts emailed to you each day.