You are here
King renews support for Libya's national concord
By JT - Aug 20,2017 - Last updated at Aug 20,2017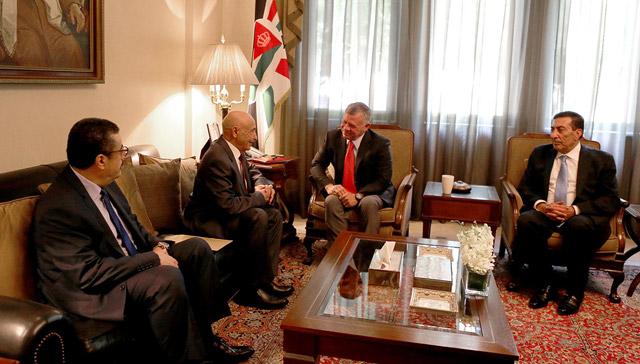 His Majesty King Abdullah receives Libyan Lower House Speaker Aqila Saleh, in the presence of senior officials, at Basman Palace on Sunday (Photo courtesy of Royal Court)
AMMAN — His Majesty King Abdullah on Sunday received at Basman Palace Libyan lower house speaker, Aqila Saleh, who is currently visiting the Kingdom, according to a Royal Court statement.
The meeting discussed developments in the Libyan arena and the efforts exerted in the war on terror.
His Majesty affirmed Jordan's support for efforts to unite the rivalling Libyan forces and reach a political solution that would restore security, and stability for Libyans and contribute to the building of institutions in the North African Arab country.
For his part, Saleh expressed his appreciation to Jordan, under the leadership of His Majesty the King, for supporting "the aspirations of the Libyan people to achieve security and stability and to overcome the challenges they are facing".
The meeting was attended by Lower House Speaker Atef Tarawneh, Royal Court Chief Fayez Tarawneh, King's Office Director Jafar Hassan and the Libyan delegation accompanying the speaker.
In a separate meeting, Saleh, and the accompanying delegates met with Prime Minister Hani Mulki in the presence of Minister of Political and Parliamentary Affairs and Minister of State Musa Maaytah, according to the Jordan News Agency, Petra.
During the meeting, Mulki said that Jordan has been and continues to be in support of all Arab citizens and will stand by its Arab brothers. Amman also believes in a peaceful and political solution to all crises in the region within national and pan-Arab contexts, and rejects military solutions to conflicts, which "only lead to further bloodshed and the incitement of hatred".
He also reiterated Jordan's support for the legitimate government in Libya and its efforts to consolidate security and stability.
Saleh also met with Tarawneh, who said that Jordan is closely following the situation in Libya, urging efforts to forge a political solution based on national consensus.
Tarawneh said Amman stands with the Libyan people in their war on terrorism, voicing that the battle against terrorists will end with the victory of the Libyan people.
For his part, Saleh expressed his hope for Jordan's contribution to the reconstruction of Libya, stressing the importance of continued communication between the two countries, particularly parliaments to benefit from Jordan's expertise in several related fields.
Saleh, who called for supporting internationally recognised yet embattled Libyan government, outlined the challenges and obstacles faced by his country at various levels, especially those posed by terrorist gangs and armed militias.
Related Articles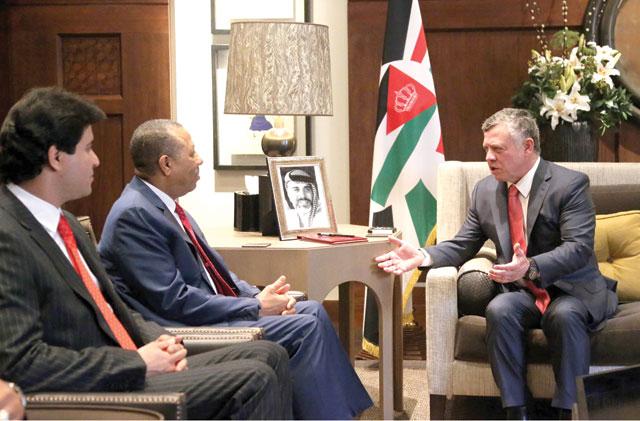 Mar 04,2015
His Majesty King Abdullah on Wednesday expressed Jordan's full support for the Libyan people in achieving its aspirations and hopes to build Libya, and enhancing the country's security and stability.
Aug 20,2017
AMMAN — Lower House Speaker Atef Tarawneh on Saturday received his Libyan counterpart Aguila Saleh and an accompanying delegation, the Jorda
May 23,2015
AMMAN — His Majesty King Abdullah on Friday held separate meetings with heads of state, and political and UN figures who are taking part in
Newsletter
Get top stories and blog posts emailed to you each day.