You are here
King urges Jordanians to embrace values of tolerance, compassion
By JT - Dec 22,2015 - Last updated at Dec 23,2015
His Majesty King Abdullah addresses the nation in a televised speech on Tuesday (Photo courtesy of Royal Court)
AMMAN — His Majesty King Abdullah on Tuesday congratulated the nation on the occasions of Prophet Mohammad's birthday and Christmas, calling on both Muslims and Christians to embrace the values of compassion and tolerance shared by the two faiths.
Following is the full text of the King's address, which was broadcast live on Jordan TV Tuesday night:
In the name of God and praise be to Him; and peace and blessings be upon our Prophet Mohammad,
My brothers and sisters, my dear sons and daughters,
Peace, God's mercy and blessings be upon you.
I am delighted to congratulate you all, as we celebrate the birth of our Prophet Mohammad, peace and blessings be upon him, and as our Christian brothers and sisters celebrate the birth of Jesus Christ, peace be upon him. I wish you all and our beloved Jordan many happy returns.
This year, the birthday of our great-grandfather Prophet Mohammad, peace and blessings be upon him, coincides with Christmas.
We mark these two special occasions while our region faces the most difficult of times. Many of the countries in the Middle East, and indeed the world, suffer from the spread of extremism and violence, and deviation from the true principles and teachings of Islam and Christianity.
On the eve of these two occasions, we must remember that Islam is a religion of compassion, and that what brings Muslims and Christians together are common values, which are profoundly opposed to the practices of khawarej, the outlaws of Islam.
God says in the Holy Koran: "We did not send you, except as a mercy to all the worlds" [Al Anbiya 21:107].
Let this be a reminder that the mercy of Islam is for all mankind; for it is truly a religion of compassion to all.
As we reflect on this, we thank God that our blessed and giving country has never witnessed division. We all live under the umbrella of equal citizenship that binds us together. We firmly believe that Arab Christians are an integral part of our past, present and future. Ever since the great battle of Mutah, Arab Christians have been an essential partner in building our culture and civilisation and in defending Islam.
Be assured that with our solidarity and determination, we will continue to stand strong and united against the evils of terrorism and extremism which target the entire world. This is the very reason why we ought to be proud of our model of religious harmony ¾ a way of life long embraced by our fathers and forefathers, and one which our next generations must, God willing, continue to protect and cherish.
Wishing you all many happy returns.
Peace, God's mercy and blessings be upon you.
Related Articles
Dec 18,2017
Following is the full text of Director General of Jerusalem Awqaf Department Sheikh Azzam Al Khatib's remarks during His Majesty King Abdull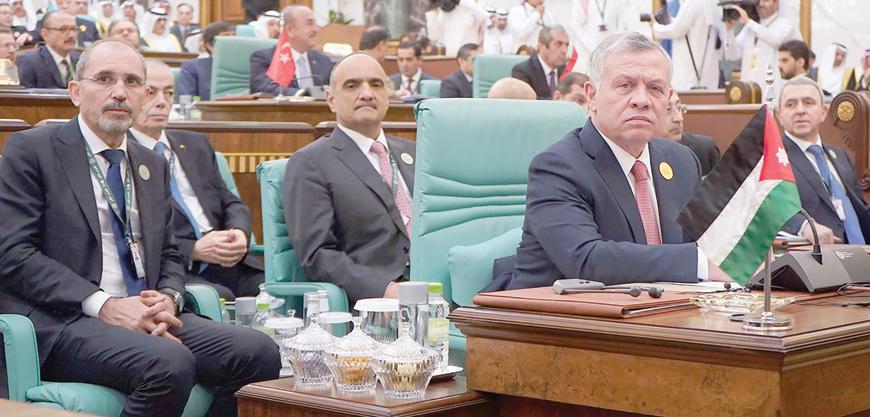 Jun 02,2019
AMMAN — His Majesty King Abdullah, in a speech on Saturday at the opening of the 14th Session of the Ordinary Islamic Summit Conference of t
Jun 01,2019
MECCA — His Majesty King Abdullah, in a speech on Saturday at the opening of the 14th Session of the Ordinary Islamic Summit Conference