You are here
King visits Marka Vocational Training Institute
His Majesty meets with vocational skills development commission's board
By JT - Oct 20,2019 - Last updated at Oct 20,2019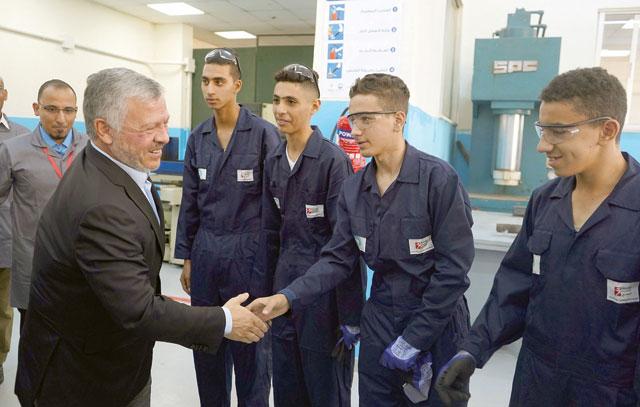 His Majesty King Abdullah reaffirms the need to empower youth and hone their skills to enable them to enter the labour market domestically and abroad during a visit to Marka Vocational Training Institute on Sunday (Photo courtesy of Royal Court)
AMMAN — His Majesty King Abdullah, during a visit to Marka Vocational Training Institute on Sunday, reaffirmed the need to empower youth and hone their skills to enable them to enter the labour market domestically and abroad.
During the visit, King Abdullah met with the board of the Technical and Vocational Skills Development Commission, which includes representatives from the public and private sectors, and was formed from the merger of the Employment-Technical and Vocational Education and Training Fund with the Centre of Accreditation and Quality Assurance, at the recommendation of the National Strategy for Human Resources Development, according to a Royal Court statement.
During the meeting, attended by Prime Minister Omar Razzaz, His Majesty stressed the importance of cooperation and coordination between the public and private sectors for the development of vocational and technical education, emphasising the value of uniting the efforts of various entities under one umbrella.
Discussing vocational and technical training, the King highlighted Jordan's potential as a regional hub for 3D printing, the statement said.
For his part, Prime Minister Razzaz underscored the role of the Technical and Vocational Skills Development Commission in providing the labour market with qualified and skilled professionals.
He noted the importance of qualifying youth to meet labour market demand and providing 3D printing incubators in the vicinity of universities to expand proficiency in this field and increase the use of this modern technology in various sectors.
Minister of Labour Nidal Batayneh, who chairs the board of the Technical and Vocational Skills Development Commission, gave a briefing on the commission's mandate, which include developing curricula, qualifying trainers and quality assuring the vocational process.
At the Marka Vocational Training Institute, which was established in 1992 and where 360 students are currently enrolled, His Majesty was given a tour of the institute's facilities, which include an electromechanical hybrid vehicle workshop, a general maintenance and mechanical workshop, and a regional Singaporean centre for air-conditioning, according to the statement.
Royal Hashemite Court Chief Yousef Issawi, Adviser to His Majesty for Communication and Coordination Bisher Khasawneh, Adviser to His Majesty for Policies and Media Kemal Al Nasser, and Minister of Education and Minister of Higher Education Walid Maani accompanied His Majesty on the visit.
Newsletter
Get top stories and blog posts emailed to you each day.