You are here
King voices support to programmes providing jobs to Jordanians
Government launches 'national pact for employment', outlines growth plans
By JT - Sep 16,2019 - Last updated at Sep 16,2019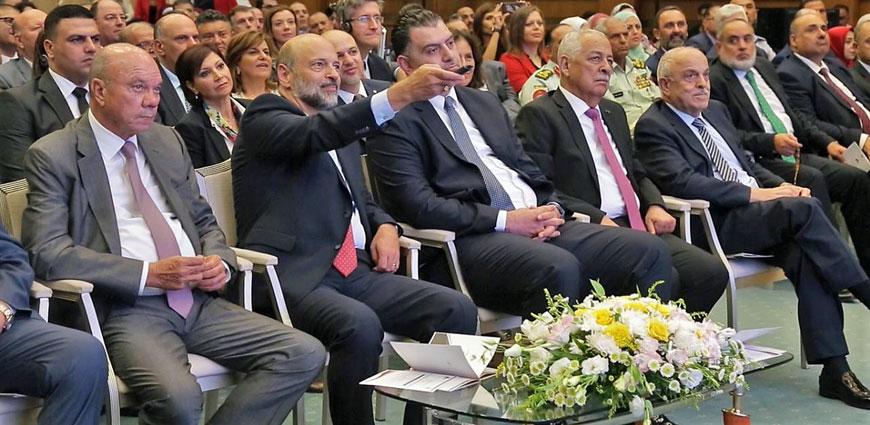 Prime Minister Omar Razzaz launches 'the national pact for employment' in Amman on Sunday (Petra photo)
AMMAN — Deputising for HRH Crown Prince Hussein, Prime Minister Omar Razzaz on Sunday launched the national pact for employment, which includes government tools and commitments by partners.
During a ceremony to announce the pact, Razzaz said that economic growth is key to employment and that the government over the two coming weeks will announce procedures that contribute to stimulating growth rates that can generate jobs, the Jordan News Agency, Petra, reported.
His Majesty King Abdullah took to Twitter on Sunday to comment on the pact by voicing support to programmes and projects that provide jobs to Jordanians and enable them to apply their ideas.
"What matters is to have tangible results that undergo continuous assessment and revision, so as to realise the envisioned goals," His Majesty said in the tweet in Arabic.
The pact, which was prepared by the government in cooperation with the private sector, aims at empowering the youth and enhancing their capabilities, as well as finding solutions to address unemployment and developing human resources.
The premier also referred to launching an electronic platform that offers employers comprehensive information on jobseekers.
Razzaz said that this pact will be a trans-government project that embodies true partnership between the executive and legislative authorities, security apparatuses, chambers of industry and commerce, professional associations and institutions related to vocational training.
He said that the growth rate currently stands at some 2 per cent, which is not enough to address employment and joblessness, noting that even growth rates of 6 and 8 per cent between 2002 and 2008 were not sufficient for solving the unemployment challenges at that time.
Referring to incentives for the private sector, the prime minister said that Jordan has high production costs and the bureaucratic procedures discourage investors, and such issues have to be solved.
Labour Minister Nidal Bataineh said that unemployment rates will not drop overnight, noting that such percentages are linked to regional and international changes that impact the economic growth in the Kingdom.
The minister noted that the government has recently issued new work permits for sectors with low turnout rates by Jordanians.
He also referred to the initiative of establishing satellite branches in governorates under an action plan that aims at building 56 satellite branches in the textile field to employ some 18,000 Jordanians, in additions to embarking on other satellite branches in the ICT sector.
Under the national pact, employers should provide the government, represented by the Labour Ministry, with lists of current and future vacancies and sign train-to-employ agreements, according to Petra.
Newsletter
Get top stories and blog posts emailed to you each day.