You are here
King vows to 'get things done' for Indian investors
By JT - Feb 28,2018 - Last updated at Feb 28,2018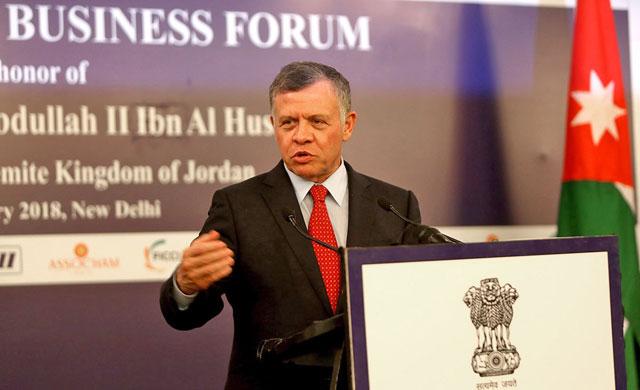 His Majesty King Abdullah addresses the Jordanian-Indian Business Forum meeting in New Delhi on Wednesday (Photo courtesy of Royal Court)
AMMAN — His Majesty King Abdullah on Wednesday attended part of the Jordanian-Indian Business Forum that was held in New Delhi, where he promised potential investors all help possible to facilitate their businesses in Jordan, according to a Royal Court statement.
"... Let's get things done and, please, do not be bashful with our ministers here. Tell them exactly what you think and what you need, and we will follow up to make sure that happens," His Majesty told an audience of more than 300 businesspeople, investors and company representatives from both countries, who discussed means to enhance cooperation between Jordan and India.
The discussions focused on various fields, especially investment, trade, education, industry, health, agriculture, mining, telecommunication, tourism and energy.
The forum, titled "Enhancing investment and partnership", was organised by the Jordan Chamber of Commerce and the Jordan Investment Commission in cooperation with the Federation of Indian Chambers of Commerce & Industry (FICCI).
In his remarks at the event, His Majesty expressed delight over visiting India along with the Jordanian delegation, public and the private sector representatives from Jordan and a number of Jordanian youth studying in India.
He thanked the Federation of India's Chamber of Commerce and Industry, the Confederation of Indian Industry, the Associated Chambers of Commerce and Industry of India, and the government of India for "making the trip so successful".
The King noted that the opportunities for Indian countrymen and women to come to Jordan have been facilitated.
He said, "We have many challenges ahead of us, and… it is more important that people of different cultures and different backgrounds energise each other and come closer together, and I believe that our two-day visit here in India will be the new start of a relationship between our two countries".
During the event, Indian Minister of Commerce and Industry Suresh Prabhu stressed the importance of bilateral relations, mutual visits, and the role of governments in facilitating the procedures for both countries' investors.
Prabhu noted that he would head an Indian business delegation to Jordan soon.
FICCI's representative ,V. S. Sahney, said that chances are strong to increase the trade volume to $5 billion by 2025, adding that several Indian companies are keen on investing in the Kingdom in various sectors.
For his part, the Confederation of Indian Industry's representative, S. Swaminathan, recalled His Majesty's visit to India in 2006, after which the mutual trade volume tripled from $570 million in 2006 to $1.89 billion in 2014.
He said the King's current visit is prone to boost cooperation and open new prospects for the Jordan-India partnership, underscoring the importance of Jordanian phosphate and fertilisers in supporting India's food security.
President of the Associated Chambers of Commerce and Industry of India Sandeep Jajodia called on Indian companies to benefit from Jordan's strategic location and its free-trade agreements with the US and other countries.
He said the numbers of Indian tourists visiting Jordan is expected to increase after Amman eased the entry procedures for Indian nationals.
On the sidelines of the forum, His Majesty met with a number of business leaders and CEOs of some leading Indian companies.
During the round-table meeting, the King stressed that opportunities are abundant to expand economic relations, noting that India is Jordan's third biggest trade partner.
King Abdullah noted that Jordan is taking various measures to improve the business environment and attract investment in fields such as energy, tourism, agriculture and filmmaking.
The meeting also covered the renewable energy sector and energy storage solutions.
Related Articles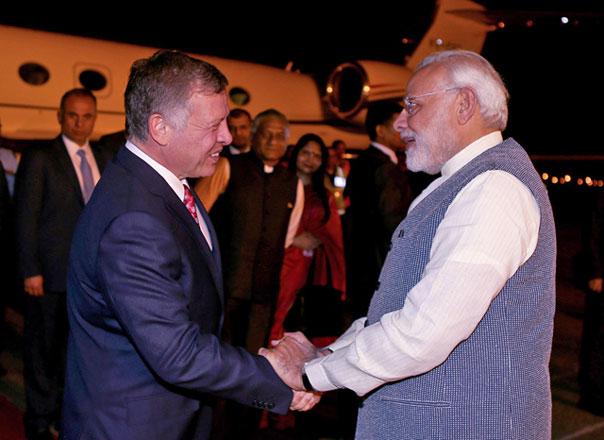 Feb 27,2018
AMMAN — His Majesty King Abdullah on Tuesday arrived in New Delhi for a state visit during which he will hold talks with Indian President Ra
Feb 22,2018
AMMAN — More than 300 Jordanian and Indian businessmen and investors are scheduled to discuss business opportunities at a forum that will be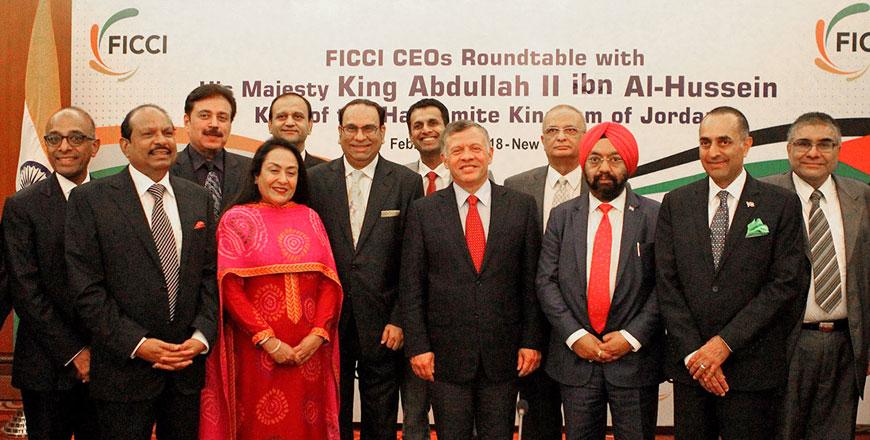 Mar 04,2018
AMMAN — Indian economists, opinion leaders and business representatives said Jordan can be a hub for Indian businesses seeking to penetrate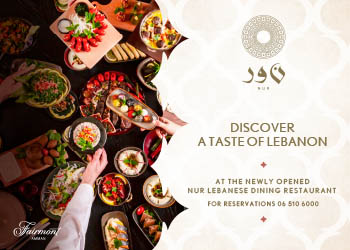 Newsletter
Get top stories and blog posts emailed to you each day.