You are here
Kingdom eyeing film tourism after success of 'Theeb', 'The Martian'
By Muath Freij - Feb 27,2016 - Last updated at Feb 28,2016
Cast members of 'Theeb' walk in one of the locations used to shoot the film in Wadi Rum, some 328km south of Amman (Photo by Muath Freij)
AMMAN — Film tourism is emerging globally as an industry in itself, and Jordan has great potential in this regard, with a history dating back to the 1962 film "Lawrence of Arabia", according to Royal Film Commission (RFC) General Manager George David.
In a recent interview with The Jordan Times, David said there are many examples of countries benefiting from serving as a filming location, as shown by the tourism success of New Zealand from the "Lord of the Rings" movies and the UK from the "James Bond" and "Harry Potter" franchises.
Countries that attract film productions benefit both in terms of film crews boosting local economies and tourists subsequently choosing destinations where popular movies were filmed.
David noted that the RFC maintains close ties with the Jordan Tourism Board (JTB) in working on initiatives that help increase film tourism, including designing a map that highlights the locations where films were shot in Wadi Rum.
"JTB works diligently against the misperception of security that we are all facing in Jordan. Parallel to the decrease in tourism, we have been experiencing a decrease in… foreign filming for the very same reasons."
David added that the Kingdom's "spectacular" and "diverse" locations, financial benefits, free or low-cost permission fees, modern infrastructure and skilled workforce all contribute to making it an attractive filming destination.
Filming in Jordan has proven to be successful and profitable for many directors in the past, including those who shot films at Jordan's UNESCO World Heritage site Wadi Rum, he said.
"This is best illustrated by the fact that three films nominated for the Oscars this year have been, entirely or partially, shot in Jordan," David noted, citing "Theeb", the US sci-fi blockbuster "The Martian" by Ridley Scott, and the Danish "A War" by Tobias Lindholm.
He also mentioned Kathryn Bigelow's "The Hurt Locker", which won six Academy Awards in 2010.
David noted that director Ridley Scott chose Wadi Rum as a stand-in for Mars in his science fiction movie "The Martian" over locations in Morocco, South Africa and Spain.
"Last year, 'The Martian' by Ridley Scott was shot in Wadi Rum, and the film spent over JD2 million in 55 days. The movie hired 134 Jordanian crew members, including five department heads, and more than 20 Jordanian companies were involved in the filming. In a related context, 5,400 hotel room nights were used during the film shoot," he said, adding that the shoot created 549 job opportunities.
"The contrast and diversity that the location of Wadi Rum offers is interesting and exceptional. For example, 'Theeb' and 'The Martian' were both filmed in Wadi Rum, yet this same filming location was successful to serve two different types of sets, one of which was Mars."
According to the RFC, several other movies were also shot in Wadi Rum in the past three years: "Hyena Road", "From A to B", "Rendezvous", "Monsters: Dark Continent", "Last Days on Mars", and "Los Alamos".
The RFC official said Jordan is offering an environment that "embraces" the film industry and this will attract more foreign productions to the country.
He noted that six film centres will be launched in different governorates across the Kingdom by January 2017.
Three centres are funded by Zain and the rest by Switzerland's Drosos Foundation, as part of the RFC's continuous efforts to develop the skills and capacities of young Jordanians, David added.
"A mobile film centre in the form of a CineBus will be launched in Wadi Rum by mid-March 2016, with the aim to train young Jordanians in Wadi Rum and introduce them to the different cinematic arts, eventually creating jobs in the area," he said.
International profile
David noted that Jordanian cinema is now gaining an international profile, most recently with the nomination of "Theeb" for the Oscar for Best Foreign Language Film.
The film, a coming-of-age tale set in the Arabian Desert in 1916, follows Theeb, a young bedouin boy, and his brother Hussein as they leave the safety of their tribe to venture on a treacherous journey at the dawn of the Great Arab Revolt.
"The RFC... is always keen on supporting and helping any Jordanian filmmaker working on his/her narrative feature film," David noted.
"A prosperous and promising film industry in Jordan steps into the light with the arrival of a Jordanian film at the Academy Awards. This shall shed light on the growth that this industry is now witnessing and that comes as a result of an enabling environment in Jordan today."
Related Articles
Nov 28,2015
AMMAN — "The Martian" has been topping moviegoers' choices at local cinemas over the past few weeks, prompting theatres to hold additional s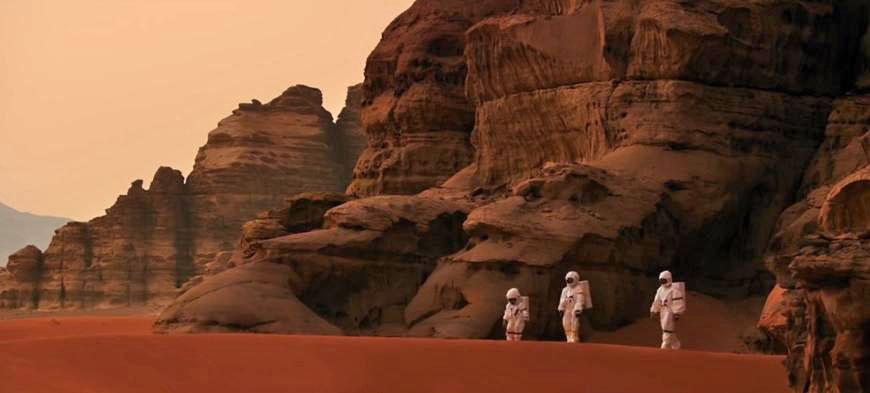 Mar 17,2016
AMMAN — In a bid to transform sightseeing into sight-doing, the Jordan Tourism Board (JTB) seeks to offer Wadi Rum visitors a "Mars-like" ex
Feb 25,2016
AMMAN — As the cast members of the Oscar-nominated Jordanian film "Theeb" anxiously await the 88th Academy Award ceremony on Sunday night, s
Newsletter
Get top stories and blog posts emailed to you each day.