You are here
La Boheme: A 'magical night' for Amman's opera lovers
By Camille Dupire - Sep 08,2018 - Last updated at Sep 08,2018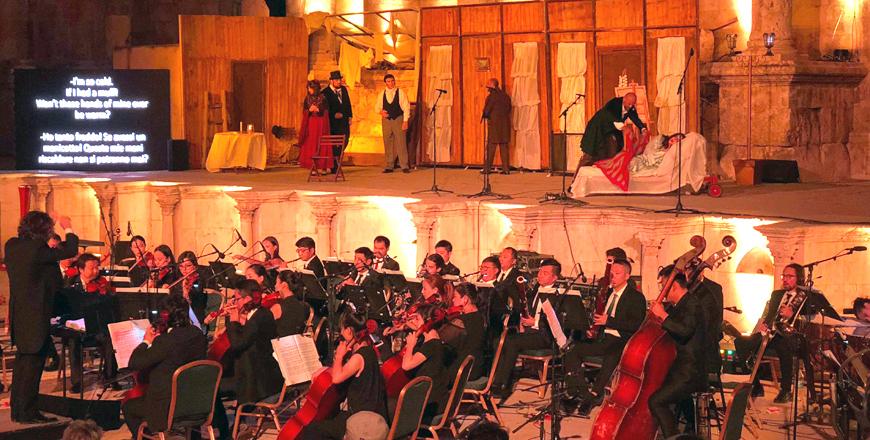 Zeina Barhoum and Bassem Al Khoury lead the cast of Giacomo Puccini's 'La Boheme' at the Roman Amphitheatre on Thursday (Photo by Camille Dupire)
AMMAN — The historical site of downtown Amman's Roman Amphitheatre on Thursday evening resonated with the stirring melodies of Giacomo Puccini's most popular opera "La Boheme", as part of Amman Opera Festival's second annual show.
Directed by Macedonian Deyan Proshev, the opera included a jaw dropping performance by Jordanian soprano Zeina Barhoum and Bassem Al Khoury, alongside singers from Georgia and Italy.
The troupe captivated the cosmopolitan audience gathered in one of the most iconic venues in the capital, unfolding Puccini's most famous tragedy with the grace and greatness of world professionals.
Leading the cast was Jordan's charismatic Barhoum, who took on the role of the vulnerable and flirtatious Mimi, cut short by an untimely disease. Her powerful acting was matched by Al Khoury's visceral interpretation of Rodolfo, whose youth and ardency are shot down in flames by the tragic death of his lover in the final act.
The entire cast was brilliantly accompanied by the festival's artistic director, Lorenzo Tazzieri, who conducted the Sichuan Philharmonic Orchestra, one of the youngest symphony orchestra in mid-western China, with a stunning rigor.
No surprise arose from this beautifully performed ensemble piece, if not the unfortunate cuts from the original four act opera. The show was nonetheless magnified by the stunning environment of the Roman Amphitheatre, which gave an almost surreal atmosphere to the 19th century production.
The evening also included a performance by choir singers from Jordan, including Jordan's children's choir Nai conducted by Diana Talhami.
Held under the patronage of HRH Princess Muna, who attended the inauguration ceremony of the festival on Tuesday, the festival aims to be "a cultural diplomacy tool and ambassador to what Jordan can offer to its people and the rest of the world as a badge of honour we all wear with pride", according to Barhoum.
The second edition of the Amman Opera Festival, La Boheme follows the production of Verdi's La Traviata last year, which sought to breathe new life into the local musical scene.
Newsletter
Get top stories and blog posts emailed to you each day.