You are here
Labour Ministry implements automation of services
By JT - Mar 14,2017 - Last updated at Mar 14,2017
AMMAN — The Labour Ministry has implemented the automation of service delivery to citizens, by connecting the ministry with the Social Security Corporation and relevant labour and workers' institutions, the ministry said on Tuesday.
In a statement, carried by the Jordan News Agency, Petra, the ministry said that it prepared a guidebook that explains the recent Cabinet decision on exemptions related to the status of illegal guest workers, who were given a grace period until April 15 to rectify their status.
The guidebook has information on new work permit fees, percentage of exemptions granted to each sector when renewing permits, terms necessary to apply for a permit and required documents to rectify the status, the ministry said.
Labour ministry departments across the Kingdom receive employers and workers daily between 8:30am and 5pm, including Saturdays, to encourage employers to legalise the status of their illegal guest workers.
Workers in the agricultural sector have to pay only JD300, instead of JD500, when they apply for a new permit or to renew it under the same employer, the ministry said.
Workers in the agricultural sector will be fully exempted from work permits fees for previous years when they renew permits in the same sector.
Workers in the sector, who have expired or invalid permits, will be exempted from 50 per cent of the fees, when they move to other employers in other sectors. When they renew their permits to work in other sector, they have to pay JD500.
Workers in other sectors will be given a JD100 discount, paying JD400 instead of JD500, while renewing their permits with the same employer, and will be given a 50 per cent exemption for work permit fees from previous years.
Domestic helpers, cleaning workers at residential buildings and workers at garment companies registered at the Jordan Investment Commission are excluded from the JD100 exemption, according to the ministry.
Guest workers who want to leave the Kingdom will be exempted from 60 per cent of work permit fees and any money due for previous years.
Fees for issuing work permits for domestic helpers are JD500, cleaning workers at residential buildings have to pay JD400, while workers at garment factories have to pay JD175, in addition to JD100 to support the Employment-Technical and Vocational Education and Training Fund.
Related Articles
Feb 01,2018
AMMAN — Labour Minister Ali Ghezawi on Thursday said that the Cabinet decided to give a new grace period extending between February 4 and Ma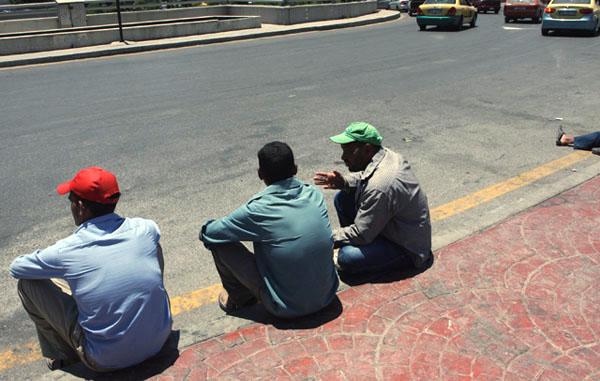 Mar 08,2015
The Ministry of Labour has issued 13,000 work permits to guest workers since the launch of a nationwide inspection campaign late last month, a government official said on Sunday.
Feb 05,2017
AMMAN — There are around 1.4 million guest workers in Jordan, a million of whom are illegal, Labour Ministry Spokesperson Mohammad Khatib sa