You are here
'Lack of skilled ICT graduates hindering sector's development'
By Mohammad Ghazal - Oct 28,2014 - Last updated at Oct 28,2014
AMMAN — Upgrading universities' ICT curricula should top authorities' priorities, as it is crucial to increase Jordan's ICT competitiveness, Marwan Juma, head of the MENA ICT Forum 2014 organising committee, said Tuesday.
"There is a decline in the skills of ICT graduates in Jordan and this is a very serious issue that universities and stakeholders need to pay attention to," Juma, said at a meeting with reporters to review the forum's main speakers, agenda and sessions.
The issue will be discussed during the two-day forum, which starts on November 12, he said.
"The ICT sector is not a local one. Companies in the field compete regionally and globally, and having graduates with the skills demanded in the labour market is fundamental to increase companies' competitiveness in the field, which witnesses fierce competition globally," Juma noted.
"Companies need certain ICT skills and they face difficulties sometimes in finding skilled staff," he said.
Underlining the need to increase Arabic content on the web, the former ICT minister said forum participants will look into the issue and means to increase this content.
Juma added that more efforts are required to raise awareness on the importance of intellectual property rights.
"Start-ups and companies in Jordan develop software and products, and do not register these products as intellectual property. We need to raise awareness on how to register these products... which will help increase their competitiveness globally."
During the MENA ICT Forum 2014, which will be held under the title "Disruptive Technologies", participants will also discuss the latest challenges and opportunities in the field, including the drop in telecom company revenues due to an increase in data usage at the expense of voice services.
More than 1,200 experts are expected to take part in the event to discuss the latest technological advancements that have a direct impact on the way people work and live.
Several activities will be held on the sidelines of the forum, such as the Entrepreneurship Café by Oasis500, the App Challenge, the Games Summit, Catalysing Conversations, Mix n' Mentor and the Amman TT Forum Edition.
The event is organised by the ICT Association of Jordan (int@j) and the ICT Ministry with the support of USAID and the country's telecom operators.
Related Articles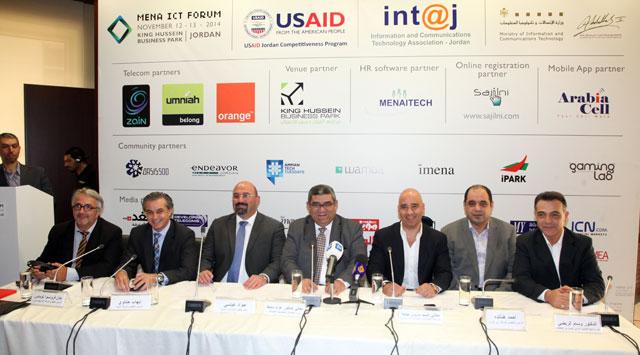 Sep 09,2014
Local, regional and international ICT experts are scheduled to convene in Amman in November to discuss the latest technology advancements that have a direct impact on the way people work and live, organisers said Tuesday. 
Jun 04,2018
AMMAN — The ICT Ministry, in cooperation with the education and health ministries and KINZ Company, on Sunday launched the e-daleel website.
Jul 06,2014
As almost half of ICT university students graduate with degrees in majors that have "very limited" job opportunities, the ICT Association of Jordan (int@j) is working on a programme to boost graduates' skills and enhance their employability.