You are here
Latest 'honour killing' sparks protest, fuels call for change 
By Rana Husseini - Jul 21,2020 - Last updated at Jul 21,2020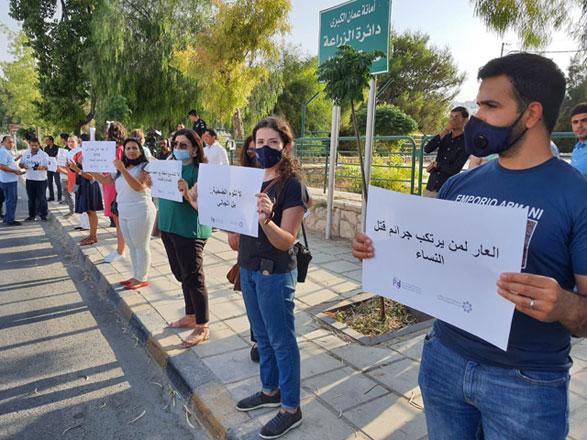 Citizens stage a sit-in near the Prime Ministry building in Amman to protest against the alleged killing of a Jordanian woman by her father for reasons related to 'family honour' on Monday (Photo by Rana Husseini)
AMMAN — Tens of citizens staged a sit-in near the Prime Ministry building in Amman to protest against the latest killing of a Jordanian woman allegedly by her father for reasons related to "family honour".
Men, women and children held banners that called for an end to violence against women and better legal and administrative protection for women in the Kingdom.
"I am here to voice my protest over the killing of a woman in Jordan a few days ago and to call for changing the laws to better protect women," nine-year-old Mahmoud told The Jordan Times.
Mahmoud's mother Natasha said she came to call for changing the laws to better protect women in Jordan.
"We represent half of society and we still suffer from discriminatory laws… why the government is reluctant to change the laws? They need to change the laws to protect us," she told The Jordan Times.
The 40-year-old victim was allegedly murdered by her 57-year-old father with a rock near her home in Ein Basha region and claimed "family honour" as his motive.
The Criminal Court prosecutor charged the suspect with premeditated murder on Saturday and issued gag order the following day restricting the publication of any news related to the alleged murder of the woman.
Bissan Jaber, one of the demonstrators near the Prime Ministry, said she showed up to "protest the [government] procedures and ambiguous laws that are allowing for such murders to take place".
"Enough excuses by everyone. We need to amend the laws to better protect women in Jordan and call for ending any reductions of penalties for perpetrators of so-called honour crimes," Jaber told The Jordan Times.
Usama Abdul Hadi also said he showed up to protest all forms of violence against women.
"Women need to be treated equally in Jordan and we should regard any woman who is subjected to violence as a victim that needs support and protection," Abdul Hadi, 29, told The Jordan Times.
Women activists and social media users voiced their dismay over the incident and called on the government to introduce laws and adopt procedures that protect victims of domestic violence in Jordan.
Several petitions went viral over the past few days mostly calling on the government to adopt more procedures and policies that would better protect women, whose lives are in danger for reasons related to "family honour".
Newsletter
Get top stories and blog posts emailed to you each day.