You are here
'Laws on employment of people with disabilities not fully implemented'
By Khetam Malkawi - Dec 02,2015 - Last updated at Dec 02,2015
AMMAN — Despite national laws and regulations that obligate the public and private sectors to employ persons with disabilities, actual implementation is still lagging behind, according to a report issued on Wednesday.
Released by the Phenix Centre for Economic and Informatics Studies to mark International Day of Persons with Disabilities, annually observed on December 3, the report said the employment of people with disabilities in the public and private sector stood at 1 per cent and at 0.5 per cent in 2010, and indicators do not show an improvement after five years.
The report, developed in cooperation with Friedrich Ebert Stiftung, added that 231 people with disabilities were employed in the public and private sectors in the first 10 months of 2015, citing Labour Ministry figures.
Of the total, 189 are men and 42 are women.
A report issued by the Higher Council for the Affairs of Persons with Disabilities in April this year said nearly 9.9 per cent of people with disabilities aged 15 and above in Jordan are unemployed but actively looking for jobs, while those working constitute 7.7 per cent.
The Law on the Rights of Persons with Disabilities stipulates that private and public sector institutions with over 25 and less than 50 employees are obligated to employ one disabled person, while in companies with over 50 employees, 4 per cent must be people with disabilities.
However, a report issued by Phenix Centre last year said many of those employed are paid less than the minimum monthly wage of JD190.
In addition, some of them work up to 14 hours a day in violation of Article 57 of the Labour Law which stipulates that employees should not be forced to work for more than eight hours a day, except in special circumstances, for no more than 30 days a year, and up to two extra hours a day.
The article also stipulates that employees should be paid for the extra work they do.
The report issued on Wednesday recommended modifying Article 13 of the Law on the Rights of Persons with Disabilities to ensure its implementation and oblige institutions to implement the accessibility requirements.
The report also recommended that monitoring institutions ensure the implementation of the law.
In addition, it calls for encouraging private companies to employ people with disabilities by offering them incentives.
International Day of Persons with Disabilities has been commemorated since 1992 to promote awareness and mobilise support for critical issues relating to the inclusion of persons with disabilities in society and development, according to the UN.
The event works to promote action to raise awareness about disability issues and draw attention to the benefits of an inclusive and accessible society for all.
This year, it is observed under the theme "Inclusion matters: access and empowerment for people of all abilities".
Related Articles
Dec 29,2014
People with disabilities in Jordan face difficulties in finding jobs, while those who are employed work under difficult conditions, according to a report released Monday.
Dec 02,2017
AMMAN — The Jordan Labour Watch at the Phenix Centre for Economics and Information Studies on Saturday issued a statement on the employment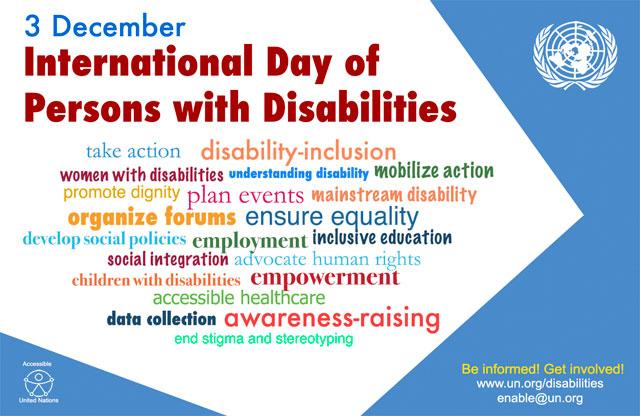 Dec 04,2017
AMMAN — Jordan on Sunday marked the International Day of Persons with Disabilities (PwD), under the theme "Transformation towards sustainabl
Newsletter
Get top stories and blog posts emailed to you each day.