You are here
Local businesses brace themselves for Eid Al Adha
Demand for sweets, clothing, sheep increases as holiday approaches
By Hannah Myrick - Aug 18,2018 - Last updated at Aug 18,2018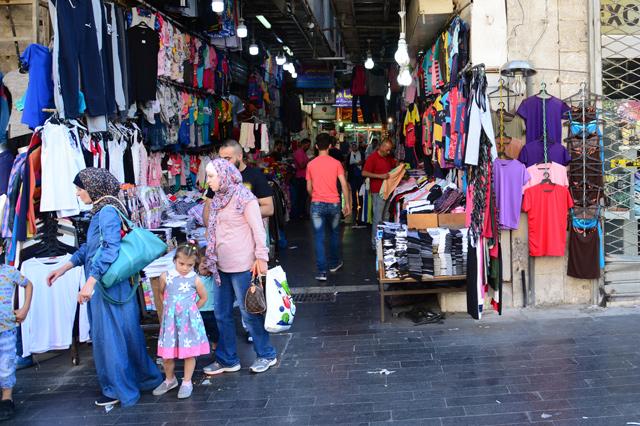 Shops are preparing for the busy Eid Al Adha period, which sees a sharp increase in sales (Photo by Amjad Ghsoun)
AMMAN — Local businesses are ramping up ahead of Eid Al Adha, which is expected to bring large crowds of people to farms, sweets and clothing shops around the Kingdom.
Eid Al Adha, also known as the feast of sacrifice, will begin on Tuesday evening this year, lasting until Saturday. The Muslim holiday is typically celebrated through the slaughtering of livestock, cattle or camels, but the slaughter of sheep is the most common practice in Jordan.
Al Khalazeh farms, located right outside Amman, is one of the many family owned sheep farms in Jordan that people visit during eid to buy a sheep. According to Malek Khazaleh, one of the brothers who works at the farm, the number of sheep bought at Al Khalazeh farms increases from around six to seven sheep daily normally to around 1,000 bought over the four days of Eid Al Adha.
The average sheep cost around JD160-170 while larger sheep with horns and of older age can cost more around JD200, he continued.
Once sacrificed, the sheep is usually split into three parts, where the family keeps one third to cook mansaf and other traditional meals, distributes one third to the poor in their community and the last third to family and friends.
The distribution of goods among other families is a common practice during this holiday, and shops will be preparing for that months in advance, according to various shop owners in Amman.
"We have a tradition here: we buy food not just for us, but for seven families. One family will buy seven kilogrammes worth of food," said Abu Mohammad, manager of the Al Sahel Al Akhdar Sweets shop in Tarbarbour.
The most popular sweet during the holiday, mamool, is a cookie made with either semolina or wheat flour and stuffed with dates, which the sweet shop has been preparing for the past 10 days.
The shop employees began preparing baklava, another type of sweet, two months ago, getting ready for the expected 2,000 customers daily, according to Abu Mohammad.
"Someone might come in 10 days before Eid, finish eating everything they bought and then come back. Some people come in three times, four times, before Eid," he told The Jordan Times.
Meanwhile, other stores are preparing for sleepless nights, planning to be open 24 hours, like the Al Zuhirie suit shop, in Al Fhais market, a large building in downtown Amman, entirely filled with suit shops.
Established 25 years ago, the shop has been opening its doors for 48 hours from Sunday to Monday, the two days before Eid begins.
"There are so many people in [Al Fhais] market, I cannot even leave this shop," said Ezzat Al Zuhurie, a co-owner at the shop.
However, as hectic as the season gets, workers and customers say they still enjoy the sense of community that comes from many people being in the shop at one time, drinking coffee and making new connections.
"I like working during eid. I like my work, I like coming here, inviting my friends and loyal customers into the shop," Al-Zuhurie told The Jordan Times.
Murad Moghrabi, a regular customer of the shop, feels the same sense of community.
"There are a lot of shops, I can buy from anywhere, but I like to come here because I know the owner of the shop. I will be back every year," he said.
For now, Moghrabi said he will wait for the salary he believes will be paid to him by the government around Saturday, August 18.
"Normally I'm paid the 20th of every month, but Eid is special, because we must provide and buy new things earlier than usual for our families for the holidays," Moghrabi explained.
Newsletter
Get top stories and blog posts emailed to you each day.