You are here
Local elections opportunity to measure performance of representatives — Maaytah
By Jassar Al Tahat - Aug 16,2017 - Last updated at Aug 16,2017
A voter registers to vote at a polling station in Amman on Tuesday (Photo by Osama Aqarbeh)
AMMAN — Minister of Political and Parliamentary Affairs Musa Maaytah on Tuesday highlighted the "comprehensive and systematic programmes to measure the performance of the councils elected in the municipal and local elections".
"Of course, the government will be following up on them and keeping a close eye on the performance of elected members. We have also set up many programmes for capacity building and awareness-raising for elected officials," Maaytah told The Jordan Times in an interview .
He stressed the importance of assessing the "new experience" of the local elections, noting that municipal elections have been around for 140 years.
"People must also record the performance of their elected councils, as this democratic process came as a step towards enhancing the quality of services offered in the Kingdom," the minister said.
"The next elections are scheduled in four years, which gives us time to reflect on the negative and positive aspects witnessed at the administrative and legislative levels, so as to improve the next elections," Maaytah concluded.
In Tuesday's elections, Jordanians elected mayors, members of local and municipal councils, as well as the new governorate councils, which were elected in accordance with the new Decentralisation Law.
The final number of candidates for municipal and governorates councils reached 6,623 at the end of the withdrawal period.
According to Independent Election Commission figures, the number of candidates running for mayorship stands at 538, 4,701 for municipal and local councils and 1,239 for membership of governorate councils.
Under the Decentralisation Law, the country is divided into 158 districts, with the distribution of the total number of 303 representatives varying according to area and population, in addition to a 10 per cent (32 seats) quota for women who do not make it through direct election.
In addition to the 335 winners, an additional 15 per cent will be assigned by the Cabinet, raising the overall number of governorate council members to 380, with one-third of the additional 15 per cent required to be women.
Related Articles
Aug 02,2017
AMMAN — His Majesty King Abdullah on Wednesday stressed the importance of easing procedures of polling during the upcoming local elections,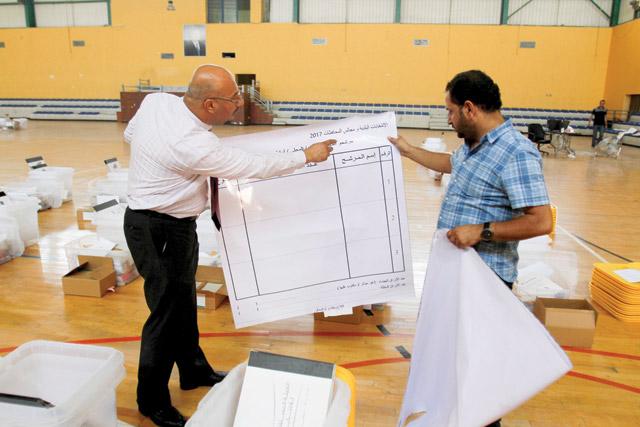 Aug 14,2017
AMMAN — Some 4.1 million Jordanians are eligible to cast their votes at the local and municipal elections today.In Tuesday's elections, Jord
Aug 01,2017
AMMAN — The final number of candidates of municipal and governorates councils reached 6,623 at the end of the withdrawal period on Tuesday,
Newsletter
Get top stories and blog posts emailed to you each day.