You are here
Local market 'flooded with sheep' ahead of sacrifice feast
By Muath Freij - Sep 16,2015 - Last updated at Sep 16,2015
In this file photo, vendors showcase sheep in a pen set up in Amman during the Eid Al Adha season (Photo by Muath Freij)
AMMAN – A total of 600,000 sheep are available on the local market and the number is expected to be on the rise with the approach of the Eid Al Adha holiday, which will start next Wednesday, a Ministry of Agriculture official said on Wednesday.
The feast of the sacrifice marks the end of the pilgrimage season, when Muslims of sufficient means are required to sacrifice livestock in remembrance of Prophet Ibrahim's willingness to sacrifice his son Ismail to God.
Ministry Spokesperson Nimer Haddadin said the number of sheep available on the market is expected to rise to 650,000, both local and imported, in the coming days.
"The number of sheep exceeds local demand, which ranges between 350,000 and 400,00 sheep this season," he told The Jordan Times over the phone. The upside of such abundance is that it will likely reflect on prices for consumers.
Haddadin noted that Jordan's private sector imports sheep from countries including Romania, Russia and Australia.
"I call on traders to provide sheep at affordable prices. The Ministry of Industry, Trade and Supply notified vendors to compile a price list so that people can buy in accordance with their finances," he added.
Haddadin noted that prices are usually high during the first two days of the holiday because the demand soars on these days while the cost starts to decrease during the rest of the holiday.
According too Islamic teachings, Muslims can sacrifice sheep, cattle and camels during the four days of Eid.
Meanwhile, the Greater Amman Municipality (GAM) on Wednesday started field visits to check locations the municipality has designated in Amman earlier this week for sheep pens, according to Abdul Majeed Oudwan, GAM's executive director for markets.
"Vendors are allowed to showcase sheep at these locations one day ahead of the Eid Al Adha holiday," he told The Jordan Times over the phone.
He also called on residents to buy from GAM-designated locations because they are "safer and more organised".
"GAM teams will be going around the capital to remove random pens," he said.
Oudwan announced earlier that the municipality has designated 14 locations in the capital such as Basman, Shafa Badran, Khreibet Al Souq, Suweilieh, Bader, Nazzal, Muqabalin, Nasser, Marj Al Hamam, Ras Al Ain, Qweismeh and Marka in addition to official slaughterhouses in Madonah and Ain Ghazal in eastern Amman.
Basem Tarawneh, deputy director for districts and environmental affairs at GAM, said in a recent interview with The Jordan Times that tanks would be built underground to collect the blood and teams of sanitation workers will be deployed at these locations to make sure of the cleanliness of these venues.
"Many veterinarians will also be deployed there to ensure slaughter animals are not sick," he added.
Related Articles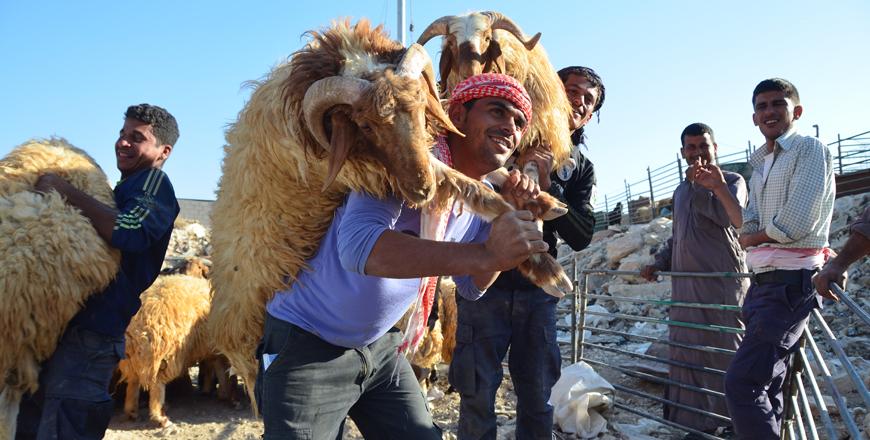 Sep 12,2015
AMMAN –– The Greater Amman Municipality (GAM) will take a series of measures to protect public health and the environment during the upcomin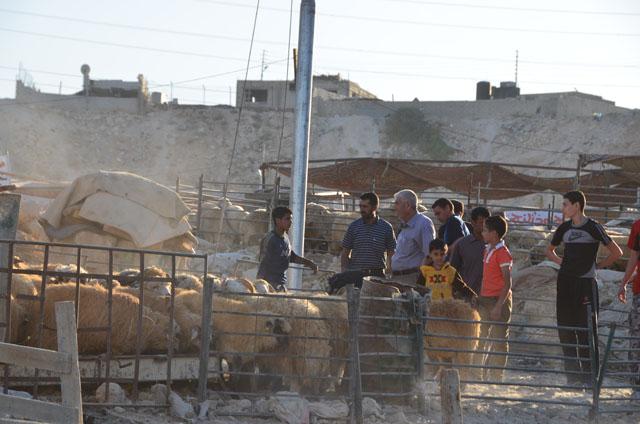 Sep 22,2014
The Greater Amman Municipality (GAM) on Monday designated a number locations for sheep traders to sell and slaughter their livestock during Eid Al Adha. 
Sep 29,2015
AMMAN – The Greater Amman Municipality (GAM) removed a total of 150 illegal sheep pens during Eid Al Adha, which ended on Sunday, a municipa
Newsletter
Get top stories and blog posts emailed to you each day.