You are here
The longest ongoing archaeological project, Madaba Plains Project, celebrates 50 years of research
Some 2,000 students, volunteers and professors participated in project over past five decades
By Saeb Rawashdeh - Jul 12,2018 - Last updated at Jul 12,2018
Plastered east balk of reservoir in Tell Hisban (Photo courtesy of Ivan LaBianca)
AMMAN — A mini-conference was organised on Wednesday at the German-Jordanian University and at a community centre in Hisban to mark the 50th anniversary of the establishment of the Madaba Plains Project (MPP), the longest ongoing archaeological project in Jordan, which includes three archaeological sites: Tell Hisban, Tell Jalul and Tell Umayri.
The sites are located east of the Jordan River in fertile agricultural land and were occupied from the Bronze Age until modern times.
The celebrations were organised in close cooperation with the Department of Antiquities (DoA) of Jordan, the Municipality of Hisban and the Hisban Cultural Association.
An estimated 2,000 students, volunteers and professors have participated in MPP's various projects over the past five decades, said Professor Oysten LaBianca from Andrews University in Michigan.
"The year 1968 was the beginning of my archaeological career, the beginning of the Hisban project and the beginning of the American Centre of Oriental Research [ACOR], all three of which played a huge role in my life. I and other younger scholars built our archaeological careers on the foundation laid at Hisban," noted Professor Emeritus Bert de Vris, who taught history at Calvin College.
De Vris was one of two people who worked every season of the first phase of the Hisban project, including all six summers from 1968 to1976.
Another veteran scholar, Professor of Near Eastern Archaeology at La Sierra University Douglas Clark, worked with the MPP from 1973 as a volunteer, square and field supervisor, consortium director, co-director, director and photographer.
"Working for the long term on a major archaeological undertaking like the MPP, while demanding, has been extremely rewarding. To see more than 2,000 participants over these five decades become engaged, some in life-long professions in archaeology, to observe major changes — improvements — in archaeological theory and methods over this time period, to be part of sometimes significant shifts in how we think about our discipline and its contributions, to be engaged in radical improvements in cyber technologies applied to our work… this has been a real adventure!" Clark underscored.
Professor Lawrence Geraty, who received his PhD from Harvard, began working at the MPP in 1968, and in 1973 Siegfried Horn, the original excavator from Andrews University, retired and offered the project to him.
"My role was to expand the methodology of our approach through the use of numerous specialists and to try and reach bedrock in as many squares as possible, including the completion of our regional survey. After completing the first phase of our work at Tell Hisban, we moved to Tell Umayri, and eventually Tell Jalul," said Geraty.
LaBianca, who is a co-director and one of founding fathers of the MPP, plans to continue in the same role as before while mentoring the next generation of researchers to eventually succeed the older generation of researchers.
"A strength of the MPP consortium is that it has, and hopefully will continue to provide, a means to ongoing triangulation of theories, methods, data-sets and specialists among participating researchers," LaBianca added.
The Hisban Expedition, which was completed in 1982, and its MPP spin-offs provided early career training opportunities in archaeological field methods for a large number of professional archaeologists and professors working in Jordan and beyond, said LaBianca.
According to LaBianca, the most important feature of the MPP is a scientific collaboration and how its participants have benefitted from an easy flow of constructive criticism aimed at eliminating biases and promoting best practices in methods of digging and approaches to interpreting what is found.
"This is, perhaps, the most important legacy of the MPP where the future of archaeology of Jordan is concerned," LaBianca noted.
"Because our Jordanian hosts and associates have been such a key part of our success we thought it is appropriate to hold the celebration in the village of Hisban," he underlined, adding: "We could not have accomplished what we did without the workmen from the village — several generations of them!" Garety said.
Related Articles
Nov 09,2021
TELL HISBAN — Over the years, the objectives of archaeological excavations at Tell Hisban, located in the Madaba Plain, have changed d
Jul 24,2022
AMMAN — A recently published book titled "Hisban" offers insight into archaeological sites of the area of the Madaba plains and interactions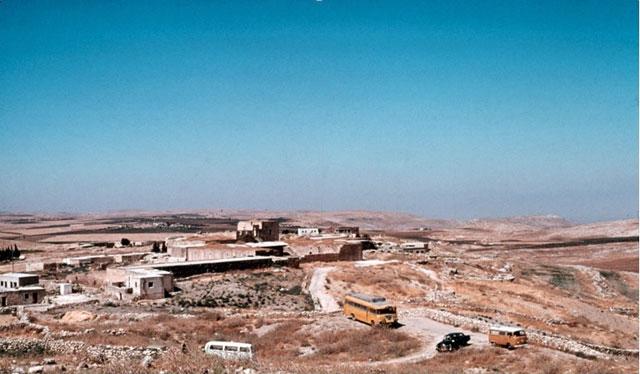 May 24,2018
AMMAN — The idea to develop the Nabulsi complex in Hisban into a community centre came ten years ago from Oystein LaBianca, an American-Norw