You are here
Lower House endorses general pardon draft law
Traffic fines, cybercrimes, several manslaughter cases would be pardoned under draft
By JT - Jan 21,2019 - Last updated at Jan 21,2019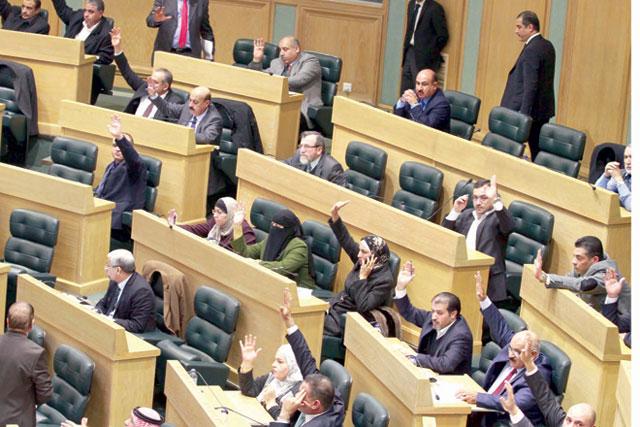 Deputies vote on the 2019 general pardon bill on Monday (Photo by Hasan Tamimi)
AMMAN — The Lower House on Monday endorsed the general pardon draft law granting full exemptions from fines, penalties and disciplinary measures to all crimes and violations committed before December 13, 2018.
The version of the bill okayed by the MPs pardons crimes, offences and violations committed before His Majesty King Abdullah's directives to the government to issue the law, the Jordan News Agency, Petra, reported.
Crimes that would be pardoned under the bill's long list, not yet fully disclosed, include defamation, slander and contempt, in addition to crimes committed listed in the Cybercrime Law and violations to the electricity and water laws' provisions.
Also on the list are violations to the laws governing residency and foreigner affairs as well as the Labour Law, in addition to fines for breaches related to the income, sales and custom taxes, among others.
Traffic violation fines and drug-related crimes, with a number of exceptions, would also be pardoned, provided that personal rights are waived, according to Petra.
Among crimes that would be excluded from the general pardon were those related to state security, forming or joining illegal organisations, espionage, in addition to theft cases stipulated in articles (400-405) of the Penal Code and several crimes of forgery.
Also on the list are crimes stipulated in articles (28-31), (33), (34) and (59) of the military penal code, among others.
The bill would also pardon several crimes violating public authority, in addition to vandalism crimes against public roads and transportation contained in Article (376) of the Penal Code.
Some manslaughter cases were also included on the list of crimes to be pardoned, namely cases under paragraphs one and three of Article (327) of the Penal Code, which cover, respectively, killing a person to facilitate or escape the punishment for a misdemeanor and a manslaughter perpetrated by several people.
The King had called for giving wrongdoers an opportunity to find the right path and correct their conduct, especially as other people have suffered financially from their misconduct, in solidarity with citizens who are going through difficult conditions, according to the statement.
MP Abdul Monem Odat, head of the House's Legal Committee, which finalised the draft bill on Sunday, said that all conventions and rules applied to previous pardon laws have been taken into consideration.
He added that a total of 18 general pardon laws have been issued in the history of the country.
House Speaker Atef Tarawneh has recently said that the majority of deputies want to exclude crimes of grave economic harm to the country, premeditated murder and terrorist acts from the general pardon law.
The speaker said that most MPs also want to include small farmers' debts in the bill, "in line with the bill's objectives which seek to alleviate citizens' financial burdens".
He also said that the House intends to ease the penalty on crimes not included in the general pardon law.
Newsletter
Get top stories and blog posts emailed to you each day.