You are here
Lower House passes draft 2022 elections law
By JT - Mar 29,2022 - Last updated at Mar 29,2022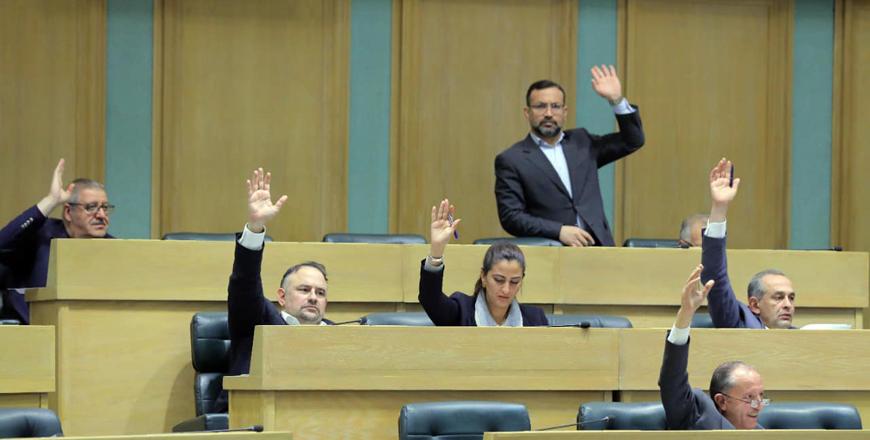 Lawmakers are seen during a Lower House session on Tuesday (Petra photo)
AMMAN — The Lower House on Tuesday endorsed the draft 2022 elections law.
By endorsing the law, the House has completed the legislation necessary to modernise the political system (the laws on political parties and elections and related Constitutional amendments), which all aim to establish a new political system based on effective political parties that can reach Parliament.
Political parties will witness a gradual increase in seats in the upcoming Lower House, starting from a percentage ranging between 30 to 50 per cent, until reaching 65 per cent during the next 10 years, under a course that is in parallel with economic and administrative reforms, the Jordan News Agency, Petra, reported.
The draft law redraws electoral districts as local and general with 138 seats, 97 of which are for local constituencies distributed over 18 constituencies, and 41 seats for the general list allocated for political parties and partisan alliances.
The bill grants every voter two votes under a mixed electoral system for partisan lists and local lists, where voters in the general lists cannot change the order of candidates accredited by the party, while voters in local constituencies can vote for individual candidates.
The draft law stipulates having at least one woman among the first three candidates on the general list and within the next three candidates, in addition to having a young man or woman (35 years old or younger) within the first five candidates.
The bill increases the number of female quota seats to be the same as the number of constituencies (18), and maintains the representation of Christians at nine seats, and Circassians and Chechens at three seats, without stipulating a maximum limit for their representation.
The draft law reduces the age of candidates to 25 years and accredits the pace of residency of voters upon preparing voter tables and the ID as the sole document for voting.
Newsletter
Get top stories and blog posts emailed to you each day.