You are here
Madaba completes first phase of 'world's largest mosaic piece'
'Project expected to be showcased to the public in April'
By Suzanna Goussous - Jan 08,2017 - Last updated at Jan 08,2017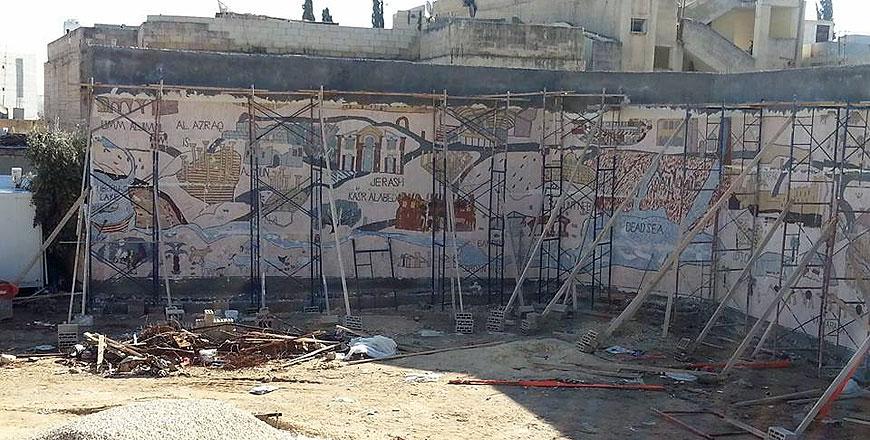 Over the period of almost two years, around 120,000 participants took part in the making of the 180-square-metre mosaic at Madaba's La Storia Museum (Photo courtesy of Madaba Tourism Directorate)
AMMAN — After winning the 2016 World Crafts City title for mosaics in 2016, Madaba has completed the first stage of "the largest mosaic piece in the world", the director of Madaba's Tourism Directorate, Wael Janini, said Sunday.
Madaba, 30km southwest of the capital, won the title in a competition organised by the World Crafts City, the Tourism Ministry announced in September of 2016.
Over the period of almost two years, around 120,000 participants took part in the making of the 180-square-metre mosaic at Madaba's La Storia Museum, Janini said, including residents, visitors and tourists from all walks of life.
The mosaic project was an initiative by Samer Twal, the former president of the Tourism Development and Heritage Preservation Society, with the aim of engaging people in tourism and showcasing the mosaic to the public, Janini told The Jordan Times.
The "Majestic Path" tells stories of the Kingdom's history, featuring tourist sites from north to south, the official added.
"The mosaic focuses on tourist destinations in Jordan, like the Baptism Site, the Dead Sea, Karak and Madaba."
Director of Madaba Mosaic Institute Ahmad Amayreh said that since the city won the title in the second half of 2016, visitors have been more interested in the history and significance of mosaics in Jordan and the Levant.
"Dating back to the Stone Age and the Byzantine Era, mosaics are a vital element of our culture and of the history of this region. Mosaic pieces depict social, cultural and religious aspects of life," he added.
The main destinations in Jordan known for mosaic pieces are Madaba and Um Al Rassas, Amayreh said.
Janini added that the mosaic piece currently being prepared will be submitted to the Guinness World Records as the largest mosaic in the world when the finsalisation process concludes and it is showcased to visitors and tourists in Madaba.
The overall cost of the making of the mosaic amounts to JD90,000, according to officials, who said that the second stage also entails making the mosaic available to the public.
The piece is expected to be showcased at the Tourist Centre in Madaba in April, Janini said, expecting a higher tourist turnout from around the world.
Related Articles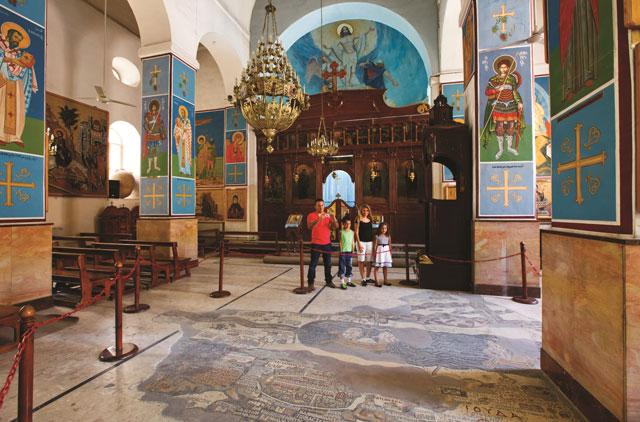 Sep 08,2016
AMMAN — Madaba has won the 2016 World Crafts City title for mosaic, in a competition organised by the World Crafts City (WCC), the Tou
Dec 19,2017
AMMAN — Deputising for Prime Minister Hani Mulki, Minister of Municipal Affairs Walid Masri has attended Madaba Governorate's celebration fo
Apr 07,2014
Her Majesty Queen Rania on Monday visited La Storia Museum on Mount Nebo in Madaba where she added a few small stones to what aims to be the largest mosaic in the world.
Newsletter
Get top stories and blog posts emailed to you each day.