You are here
Made in Jordan Festival a positive step despite 'weak marketing' — participants
By Muath Freij - Sep 05,2015 - Last updated at Sep 05,2015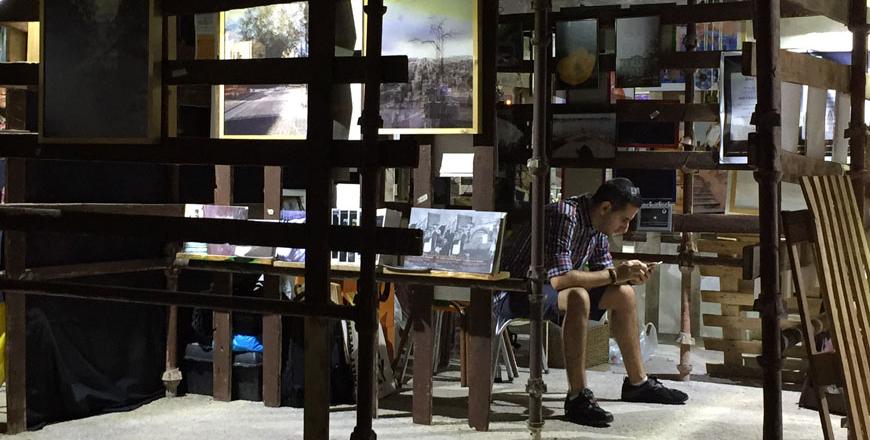 A vendor selling art pieces at the Made in Jordan Festival checks his phone on Friday (Photo by Muath Freij)
AMMAN — With the conclusion of the Made in Jordan Festival on Saturday, some participating artists and vendors criticised its "weak marketing" while others commended the initiative as a positive first attempt.
Held at Expo Land on the airport road, the festival featured products by Jordanian companies and handicraft artists, and books by local authors from across the Kingdom.
Some handicraft vendors and artists interviewed by The Jordan Times said the festival lacked the elements of success.
Linda Khoury, a Jordanian photographer and founder of Darat Al Tasweer, said such an event requires good marketing.
"It means that you need to promote the artist or the handicraft vendor before you promote his product. We had 10 days and we were promised that a great number of people would attend the festival's activities. Maybe these people came, but they did not visit our section," she said.
Khoury had displayed a number of photos taken by aspiring Jordanian photographers at a section called "Art Network"; however, she said the section was "deserted".
"We did not see any banners or marketing this section on the streets. For example, they could have set up a map to lead people to the various venues of the festival," she added.
But Shadi Shomari, a vendor at the art section, disagreed with Khoury, adding that art might not be among visitors' priorities.
"The festival was a good idea and it is good to bring together all local artists and talents at one venue. It had activities that catered to all tastes and ages. I don't think the issue was lack of marketing; it is that people maybe don't pay attention to art," he added.
Shomari said people are not willing to pay a lot of money for a painting.
"But they are ready to pay the same amount of money for a piece of furniture," he added.
Mahmoud Halhouli, a handicraft vendor, echoed Khoury's sentiment, adding that organisers should have paid more attention to marketing.
"The location of the festival was far for people who don't have cars," he added, noting that the area where handmade products were sold was not the best choice.
"When visitors first arrive at festival, they enter a huge tent that hosts the Jordanian companies and they have their fill of the event. Later, they head to a restaurants and then leave without stopping anywhere beyond that," Halhouli said.
But Majida Abu Zaghlan, another handicraft artist, disagreed.
"I think that the location of the festival is really nice because it is far from Amman and its traffic jams."
Abu Zaghlan said the festival was impressive for a first attempt. "I think next year it will be successful because organisers can learn from their mistakes and make it better."
"I did not see any problem in marketing. I saw billboards in Amman promoting the festival and there were plenty of radio commercials about it," she added.
Related Articles
Apr 21,2018
AMMAN — For Jordanian artist Suheil Baqaeen, delivering training at Haya Cultural Centre (HCC) for World Art Day was not only a way to share
Dec 11,2014
HRH Princess Muna on Thursday attended a ceremony organised by Badr Adduja Arts and Crafts Gallery, marking 16 years since its establishment.
Jul 25,2015
JERASH — Culture Minister Lana Mamkegh on Friday visited the handicraft and traditional products corner at this year's Jerash Festival for C
Newsletter
Get top stories and blog posts emailed to you each day.