You are here
Majority of 1.7m Syrian refugees facing hunger as WFP suspends food assistance
By Omar Obeidat , Khetam Malkawi - Dec 01,2014 - Last updated at Dec 01,2014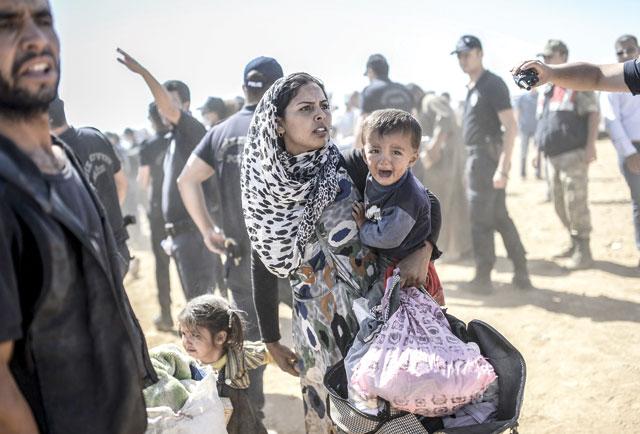 AMMAN — The United Nations World Food Programme (WFP) on Monday announced that it has been forced to suspend a critical programme providing vouchers to more than 1.7 million Syrian refugees in neighbouring countries including Jordan.
In the Kingdom, 440,000 Syrian refugees will be affected by the suspension, according to Shaza Moghraby, WFP spokesperson.
Moghraby said the programme will continue providing assistance to those residing in camps as they are identified as the most vulnerable, but those in host local communities will not receive the aid.
But this is not guaranteed, according to the humanitarian worker, who said it depends on the donations that WFP would receive in the future.
"We will continue providing assistance to those living in camps… Whatever funds we have, we will try to make sure they are getting full assistance," she told The Jordan Times over the phone.
"It is a very critical situation," she said, adding that this is not the first time that beneficiaries have experienced such a disruption in food supplies.
In October, she explained, the ratio of beneficiaries to total targeted refugee population dropped from 98 per cent to 91 per cent.
In a statement issued on Monday, WFP said under this programme, poor Syrian refugees in Jordan, Lebanon, Turkey, Iraq and Egypt have used vouchers to buy food in local shops and "without WFP vouchers, many families will go hungry. For refugees already struggling to survive the harsh winter, the consequences of halting this assistance will be devastating".
"A suspension of WFP food assistance will endanger the health and safety of these refugees and will potentially cause further tensions, instability and insecurity in the neighbouring host countries," said WFP Executive Director Ertharin Cousin, in an appeal to donors. "The suspension of WFP food assistance will be disastrous for many already-suffering families," said the statement, a copy of which was sent to The Jordan Times.
The news was shocking for a Syrian refugee who identified himself as Abu Wardan. Things will change for him and his seven-member family as he now has to buy the foodstuff, he told The Jordan Times.
"It will be hard for us to survive, especially since I have children in schools and that I have a rent to pay in Amman," said Abu Wardan, who fled his home city of Hama for Amman some two years ago.
A government official commented on the WFP decision by urging the international community to continue support to Syrians, otherwise refugees will struggle to support their families.
In Jordan, the WFP distributes monthly vouchers worth JD20 for each Syrian refugee of those residing in camps and fresh bread on a daily basis. The amount was JD22 for each refugee for those residing in communities as they were not benefiting from bread distribution according to Moghraby.
WFP's Regional Emergency Coordinator Muhannad Hadi told CNN Monday that the decision may have social consequences as families may be forced to drop their children from schools to find jobs and help feed their families, adding that early marriages may also increase, particularly in refugee camps.
The UN Security Council decision to bring aid to Syrians inside the trouble-hit country helped those who are in need for such aid, the government official noted, speaking on condition of anonymity. "Refugees in neighbouring countries should not be left alone," the official appealed.
For a group of refugees, the decision adds insult to injury, as they are already struggling with harsh weather.
The WFP statement said that Syrian refugees in camps and informal settlements throughout the region are "ill prepared for yet another harsh winter, especially in Lebanon and Jordan where many children are barefoot and without proper clothing. Many tents are drenched in mud and hygiene conditions are growing extremely precarious".
"Many donor commitments remain unfulfilled. WFP requires a total of $64 million immediately to support Syrian refugees in neighbouring countries during the month of December," the statement said.
Since the start of this operation, WFP's voucher programme has secured about $800 million in assistance for Syrian refugees.
Related Articles
Dec 04,2014
After being forced to suspend food assistance to nearly 1.7 million Syrian refugees earlier this week, the United Nations World Food Programme (WFP) on Wednesday launched an "ambitious" 72-hour campaign to raise $64 million which will reinstate refugee food vouchers in December. 
Oct 16,2014
Around 12,000 Syrian refugee families who have access to sufficient income or support networks to meet their food requirements will no longer be receiving food vouchers from the World Food Programme, a WFP official said Thursday.
Mar 19,2015
The UN World Food Programme (WFP) has announced that its food assistance for Syrian refugees living in Jordanian communities will be prioritised further to make sure support goes to those most in need.
Newsletter
Get top stories and blog posts emailed to you each day.