You are here
Media literacy project gets 'likes' from young people
School clubs teach students how to judge media content
By Laila Azzeh - Mar 06,2017 - Last updated at Mar 06,2017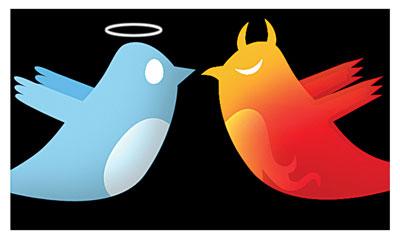 AMMAN — An EU-funded media literacy project is equipping school students with the skills needed to access and analyse media content in a way that improves their ability to judge media messages.
As part of the "Support to Media in Jordan" project, implemented by UNESCO, eight schools have been hosting "Media and Information Literacy [MIL] clubs", which serve as platforms for extracurricular activities related to media.
The clubs focus on digital media literacy, visual media creation, authenticity of news, ethical reporting, and online privacy and security, among other topics.
Enthusiastic and engaged students from Bint Adi Comprehensive Public School for Girls in Amman on Monday presented briefings on skills learned through the club.
"I learnt how to judge the content of a news item or a photo before believing it to be true. I used to be easily deceived, but now I have the tools to verify the information I get," one of the students told the audience during a visit to the school organised by UNSECO, the Jordan Media Institute (JMI) and the Jordan Education Initiative.
The abilities to protect her cyber presence and safely navigate the Internet were the main lessons another student said she learnt from the club.
The seventh, eighth and ninth graders agreed that the club's teachers, who received training from the JMI, were able to teach them to respect others' opinions and be more careful about what they share on social media.
"We want to produce a generation who are aware, critical thinkers. We live in an era characterised by a deluge of information, and we want our students to differentiate between facts and rumours by equipping them to be predisposed to logic and objectivity," Fatima Amouri, one of the club's teachers, said.
In the presence of JMI Dean Basim Tweissi, Education Minister Omar Razzaz underlined the importance of the initiative, stressing that media is part of the country's sovereignty and it is therefore necessary for the young generation to be media literate.
Under the project, UNESCO has partnered with the JMI in three main areas — policy advice to key educational policy makers to further develop MIL in Jordan, supporting teacher training to include MIL in the curriculum and supporting the Ministry of Education to introduce MIL for grades 7 to 9 through the creation of pilot MIL clubs, according to organisers.
Since late 2016, the MIL clubs have been regularly operating once a week, providing the necessary skills to ethically consume and produce media content.
"We are delighted to offer an opportunity to very senior personalities to witness firsthand the concrete results of this initiative and to realise its impact," said UNESCO Representative to Jordan Costanza Farina.
"With the younger generation spending approximately six hours a day on social media, MIL can empower them in free self-expression, critical thinking, creativity and innovation, and can provide tools to guard young people against issues such as hate speech, extremism and violence," she added.
Related Articles
Jun 20,2017
AMMAN — The media and information literacy (MIL) clubs have concluded their sessions as students finished their end-of year exams in schools
May 14,2016
AMMAN — The Jordan Media Institute (JMI), in partnership with UNESCO, has launched a project to contribute to the capacity building of natio
Jul 29,2017
AMMAN — The Jordan Media Institute (JMI) has held two training workshops on Media and Information Literacy (MIL) at the female scout camp in
Newsletter
Get top stories and blog posts emailed to you each day.