You are here
Media urged to fight terrorism, extremism
Momani attends 45th General Assembly of Federation of Arab News Agencies
By JT - Nov 22,2017 - Last updated at Nov 22,2017
Minister of State for Media Affairs Mohammad Momani speaks during the 45th General Assembly of the Federation of Arab News Agencies in Amman on Wednesday (Petra photo)
AMMAN — Minister of State for Media Affairs Mohammad Momani on Wednesday urged Arab media institutions to fight all forms of terrorism and extremism, and work in unity to address their destructive impact on humanity, the Jordan News Agency, Petra, reported.
Momani stressed that the media with its diverse tools should expose the deceptive ways of extremism.
In his remarks during the 45th General Assembly of the Federation of Arab News Agencies (FANA) held in Amman on Wednesday, the minister said that the responsibility of the Arab media institutions is huge, especially the official media institutions, which should defend the national interest, culture and civilisation, while preserving the identity of the nation and protecting it.
Momani pointed out that reinforcing confidence in official media is not only the duty of governments, but also a national effort that should be carried out by all press and media institutions.
He added that the technology advancement in the media and social media poses a serious challenge to official media institutions. The challenge requires all media institutions to keep up with the progress in technology.
Momani highlighted that failure to find a solution to the Palestinian cause has escalated challenges and added to the suffering of the Palestinian people.
He urged the international community to find a solution to the Palestinian-Israeli conflict based on the two-state solution with an independent Palestinian state with East Jerusalem as its capital.
Momani pointed out that hosting large numbers of refugees has put the country's resources under strain, especially in health, education, services, and development sectors. He called on the international community to support refugees.
President of FANA and Kuwait News Agency's Board Chairman and Director General Sheikh Mubarak Duaij Al Ibrahim Al Saba outlined the importance of media outlets in the fight against terrorism and extremism in all its forms.
FANA elected Sheikh Mubarak as the president of the federation for the next session.
Related Articles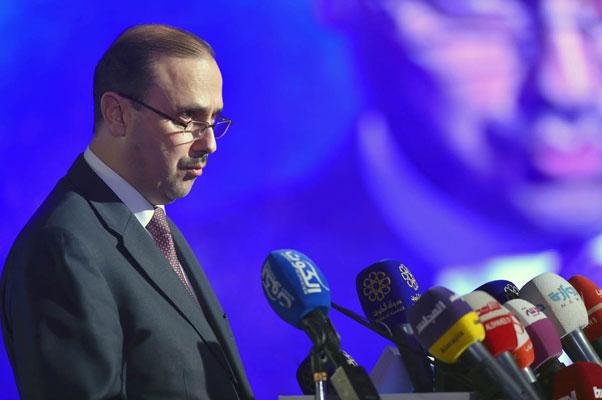 May 02,2016
AMMAN — Kuwait Emir Sabah Al Ahmad Al Jaber Al Sabah on Monday stressed the deep-rooted Jordanian-Kuwaiti ties, voicing hope for more growth
Feb 25,2015
Kuwait's "unaltered support" for Jordan's anti-terror efforts was the most prominent message behind Kuwaiti Emir Sheikh Sabah Al Ahmad Al Jaber Al Sabah's visit to the Kingdom this week, Kuwaiti Ambassador in Amman Hamad Saleh Al Duaij said on Wednesday.
Mar 23,2017
AMMAN — The Arab summit preparatory meetings are due to start Thursday, as the summit's media centre was opened at the Grand East Hotel on t