You are here
'Medical tourism sector witnessed 40% drop in first nine months of 2016'
Private hospitals reaching out to new markets, urge authorities to streamline visa entry procedures
By JT - Nov 08,2016 - Last updated at Nov 08,2016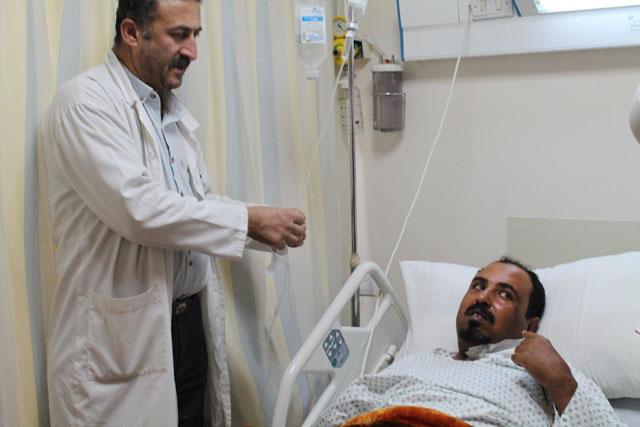 A doctor examines a patient from Saudi Arabia at the Specialty Hospital in Amman recently (Photo courtesy of Specialty Hospital)
AMMAN — Although there are several emerging markets for medical tourism in the region, Jordan is still distinguished by its skilful human resources, a representative of the sector said.
Fawzi Hammouri, president of the Private Hospitals Association (PHA), said it takes years to develop the skills of human resources in the medical sectors, and Jordan has been up to this challenge, investing in its health personnel, which helped the Kingdom become a regional leader in this sector.
In a recent interview with The Jordan Times, Hammouri said it took the Kingdom's medical sector many years to stand out from the crowd and gain patients' trust as a destination for major medical interventions and surgeries like cardiovascular diseases, kidney implants and orthopaedic surgeries, and it will remain a destination for patients seeking these interventions.
However, the first nine months of this year witnessed an unprecedented drop in the number of patients from major markets such as Sudan, Libya Yemen and Iraq due to restrictions imposed on visas issued to citizens from these countries, the sector leader said.
The drop, he noted, reached 40 per cent.
Last month, a decision was issued facilitating visa issuance within 48 hours for Libyans and Yemenis, but sector representatives want further measures to ensure facilitating the entry of these countries' nationals.
According to Hammouri, any restriction might lead to losing important markets and patients coming from these countries might start looking for alternative destinations.
Currently, a hospital is responsible for helping patients coming from countries with restricted entry visas to issue the visa, and the hospital remains responsible for the remainder of their presence in Jordan.
Hammouri said some patients have no clue how to reach hospitals in Jordan, especially in the countries where the Kingdom has no embassies or consulates.
Meanwhile, the dues on Libyan authorities to private hospitals, Hammouri said, stand at $300 million.
"We called on the government to help us with the Libyan agencies that owe us to find a solution and settle the dues so that we can resume receiving Libyan patients," he said, adding that many Libyans still want to come to Jordan for medication.
The sector leader noted that patients from Saudi Arabia top those coming to Jordan for treatment, followed by patients from other Gulf countries, and then Palestinians and Yemenis.
Hani Rwaili, a Saudi patient who underwent a surgery to remove apses in his neck, said he chose Jordan due to several reasons.
On top of them, he told The Jordan Times, is the good reputation of healthcare services in Jordan and the qualified medics.
In addition, he noted that he came by car from Qurayyat, and the distance to Amman is shorter than the distance to Riyadh.
Lashkur Abdullah, another patient who came from Erbil in Iraq's autonomous Kurdistan region, said he has pulmonary oedema and came to Jordan for treatment also due to the good reputation of the medical sector here.
"This is the first time that I come here… but I heard about the good reputation of medics and that they are trusted here…even in Erbil when I want to buy medicine I go for the Jordanian products," Abdullah said.
However, he noted that although he obtained the visa at the airport upon arrival in Amman, the security clearance took five days to be issued.
"For those coming for tourism purposes it is fine, but coming for treatment purposes, I wish it would take less, as some cases cannot wait," Abdullah said.
Looking for new markets
To further develop the sector and promote it in new markets, supported by the USAID Jordan Competitiveness Programme, the PHA has launched a two-year medical tourism marketing strategy that started in September.
A coalition of private hospitals involved with medical tourism was formed recently to adopt specific membership standards like international accreditation and centres of excellence, with the PHA as an implementing partner and Royal Jordanian as the official airline partner.
The strategy entails the implementation of "a wide range" of marketing activities, including participating in exhibitions and receiving delegations from agencies responsible for sending patients abroad for treatment.
In addition, the strategy includes marketing Jordan as a medical tourism destination in new markets, namely Kazakhstan, Algeria, Nigeria, Chad, Oman and Saudi Arabia.
The campaigns are being launched under the slogan "Jordan, your health destination", according to Hammouri.
Meanwhile, preparations are under way to host the Global Healthcare Travel Forum in February, organised by the PHA and the Global Healthcare Travel Council, which is headed by Hammouri .
More than 400 participants from the world are expected to take part in this event he said.
In addition, promoting the country's medical tourism sector might be included as part of the Jordan Tourism Board's activities as of next year, Hammouri said, noting that all that has been done so far in promoting this sector has been an effort by the hospitals.
Related Articles
Dec 04,2017
AMMAN — The number of foreign patients visiting Jordan for treatment has dropped by 40 per cent during 2016 and 2017, according to a sector
Apr 23,2016
AMMAN — The number of Libyan and Yemeni visitors to the Kingdom for medical tourism has dropped by almost 80 per cent over the first quarter
Feb 14,2016
AMMAN — The government's decision to regulate the entry of nationals of some Arab countries to the Kingdom through the visa system has negat