You are here
Meditation, small talk: RJ offers light-hearted solutions to US laptop ban
By Laila Azzeh - Mar 25,2017 - Last updated at Mar 25,2017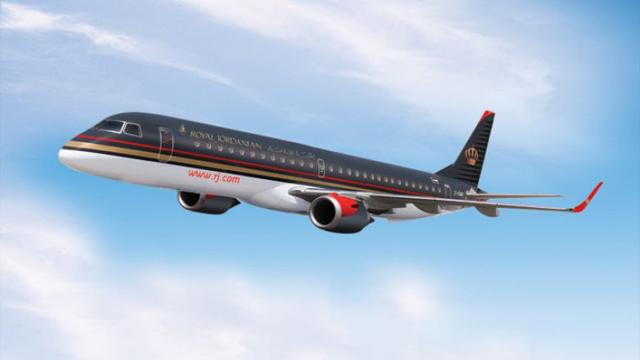 The US authorities' electronic ban for passengers flying from Queen Alia International Airport helped show the Royal Jordanian's humorous side (Photo courtesy of RJ.com)
AMMAN – The US authorities' electronic ban for passengers flying from Queen Alia International Airport (QAIA) helped show the Royal Jordanian's (RJ) humorous side.
In addition to Amman's QAIA, the decision affected nine other countries across the Middle East and North Africa.
Prohibited devices, which include — but are not limited to — laptops, iPads, tablets and cameras, and large phones, are allowed in checked baggage only, whereas regular sized cellular phones and needed medical devices are excluded from the ban, and will still be allowed in the cabin luggage.
In response to the decision, the RJ posted online a list of 12 things "passengers can do on a 12-hour flight with no laptop or tablet".
"Every week a new ban. Travel to the US since you can. We are now poets because of you son. No one can ruin our in-flight fun. We have good tips for everyone," stated the airline before outlining exactly what passengers can do.
The suggestions included: "read a book, enjoy a light snack, say hello to the person next to you, meditate, spend an hour deciding what to watch, appreciate the miracle of flying".
The advertisement also suggested passengers to "engage in primitive dialogue from the pre-Internet era, reclaim territory on armrest, pretend tray table is a keyboard, shop till dropping from the onboard duty free, analyse the meaning of life, and think of reasons why you do not have a laptop or tablet with you".
"Or do what we Jordanians do best, stare at each other!," added the RJ in posts that went viral on social media websites.
"I think this is hilarious and smart. They could have just addressed the ban in a formal way and let people know about the ban, but they were smart enough to put themselves in their customers' shoes on what could be done alternatively to dismiss boredom in long flights," Michael Batmani told The Jordan Times.
Marwa Sayed also praised the "witty satire" in RJ's recent posts, noting that the recent posts have been the "talk of the town" in the past few days.
On the other hand, Mohammad Awni Obeidat believes that the RJ should have improved their entertainment programmes on board instead of joking about the issue.
"Make revisions, not jokes," he commented on the RJ official Facebook account.
Azmi Yousef Al Ghabbiesh also called for improving the RJ's in-flight entertainment services through offering a selection of books and magazines.
Many social media users slammed the decision to ban electronics on board, describing it as racist as it does not apply to all world airports.
RJ stations in the US include: New York, Chicago and Detroit, in addition to Montreal, as it is served by a combined flight with Detroit.
The ban excludes passengers flying from these stations back to Amman.
RJ called upon its passengers travelling to the US to abide by these instructions to facilitate their travel. They are also requested to inform airport check-in staff of any prohibited devices which are still in their possession, in order to be put in their checked baggage and avoid hindrance at their arrival.
Recently, the UK government has announced a cabin baggage ban on laptops and tablets on direct flights to the UK from Turkey, Lebanon, Jordan, Egypt, Tunisia and Saudi Arabia.
Related Articles
Mar 21,2017
AMMAN — US authorities have banned passengers flying from Queen Alia International Airport (QAIA) to the US from carrying electronic and ele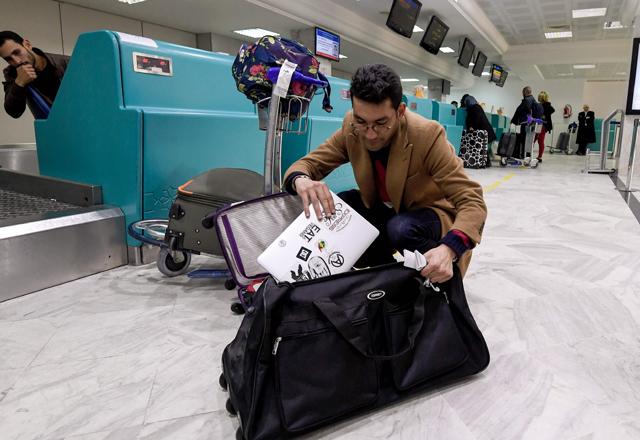 Mar 25,2017
DUBAI — A controversial ban on carry-on laptops and tablets on flights from the Middle East to the United States and Britain went into effec
Dec 21,2017
With Royal Jordanian's (RJ's) new excess baggage services, you can now save money and excess baggage online from the comfort of your home at
Newsletter
Get top stories and blog posts emailed to you each day.