You are here
Merkel, German Jordanian University students discuss refugee crisis
By Maram Al Kayed - Jun 22,2018 - Last updated at Jun 22,2018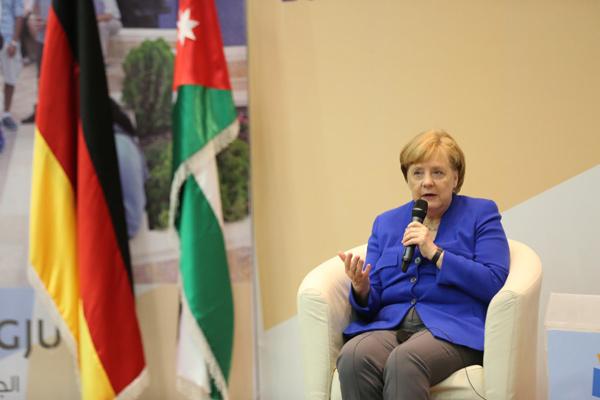 German Chancellor Angela Merkel participates in an open discussion with students at German Jordanian University on Thursday (Petra photo)
AMMAN — German Chancellor Angela Merkel on Thursday commended Jordan's hospitality in receiving a large number of Syrian refugees and discussed the various challenges the Kingdom is facing in this regard.
During an open talk with students of the German Jordanian University, the chancellor discussed several issues related to hosting refugees in Jordan, such as pressure on water, electricity and housing, and the way Germany is linked to the issue.
Merkel stressed the countries' responsibility towards refugees as the "humane" thing to do, pointing out that welcoming refugees entails discussions with "two very conflicting opinions".
"The key issue is nonetheless to keep people informed of the reality of the situation," the German official stated.
"Freedom of press and objectivity are also key aspects to be protected," she emphasised, voicing her dismay at bad news being spread faster than good news when it comes to refugees, in both Germany and Jordan.
The government of Jordan should heed the issue of human trafficking when it comes to refugees, as it is not only a threat to the refugees themselves, but also to the community as a whole, she highlighted.
She answered a number of questions on Amman's transportation system, the country's infrastructure and resources, noting that most of these issues would be discussed during her meeting with His Majesty King Abdullah.
Answering a question on the conflict with Israel over the Jordan Valley, the chancellor said that Germany and other countries are "very aware of the issue" and are trying to reach a peaceful decision that pleases all parties.
Merkel told the audience: "Engage in your studies, so that you can land a good job afterwards, but also try to reach out to your community. You are blessed with a chance of good education, which is something that many people do not have. Try to contact those people and support them."
The chancellor commended the fact that female students constitute almost 50 per cent of the university, emphasising the important role of women in society.
Newsletter
Get top stories and blog posts emailed to you each day.