You are here
Mesut Ozil gives joy to Zaatari camp children
By Muath Freij - May 19,2016 - Last updated at May 19,2016
German football player Mesut Ozil join Syrian children at the Zaatari Refugee Camp in Mafraq on Wednesday (Photo by Muath Freij)
ZAATARI CAMP — Abdul Raouf Khaled was standing in the middle of a football pitch in the Zaatari Refugee Camp in Mafraq on Wednesday, wearing the jersey of his favourite player Mesut Ozil.
The 13-year-old Syrian boy was waiting for the start of a football match for his age where Ozil was there to play and give them joy.
As soon as the Germany and Arsenal midfielder entered the pitch, the boy rushed to shake hands with him and take photos.
Abdul Raouf told The Jordan Times that he was "over the moon" to be the partner of Ozil in a football festival held by Asian Football Development Project (AFDP).
"I was so happy to meet him and learn from him. I hope that I will be as famous as he is and play for Real Madrid in the future," he said, while holding a jersey for the German national team handed to him by Ozil.
The German playmaker visited Zaatari Refugee Camp in the northeast of Jordan and joined Syrian boys and girls under the age of 13 in two short football matches.
Following Zaatari stop, Ozil joined HRH Prince Ali, the president of the Jordan Football Association and founder and chairman of AFDP, in a visit to Youth City in Amman to meet with the players of the U-17 national Jordanian team for women, according to AFDP statement.
Carine N'koue, the project coordinator of AFDP, said that when children saw Ozil they were really excited and thrilled to play with him, describing it as an important element to encourage them to follow their dreams in playing football.
Though Eiman Haitham, 13, does not know Ozil well, she said playing side by side with a famous footballer like him boosted her desire to be a better footballer.
"It was really a beautiful feeling to see him in the pitch because we had the chance to learn more skills from his experience," she told The Jordan Times after the match was over.
Described herself a football star in the camp, Yasmin said her teachers taught her how to play football.
Mohammad Zu'bi, who moved from Daraa in Syria to Jordan and has been teaching football inside the camp for three years, said it was a a great chance to have a football star hosted in the camp because this shows that football stars pay attention to their issue.
"When players in the camp meet their favourite players, this will encourage them to work harder to become stars in the future," he added.
Related Articles
Sep 18,2018
AMMAN — HRH Prince Ali, president of the Asian Football Development Project (AFDP), has inaugurated a female football pitch at Zaatari refug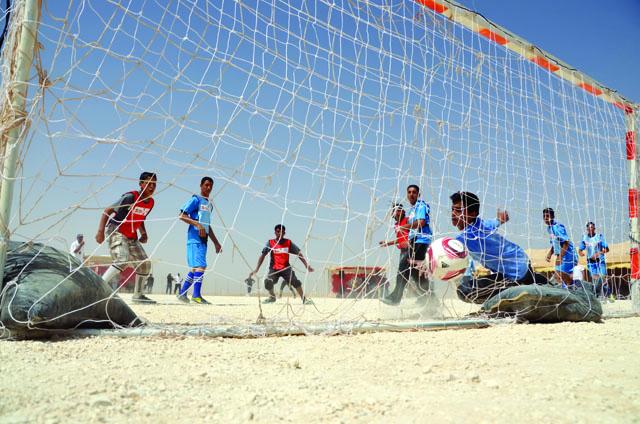 Jun 21,2014
For Muath Shahma, football is the only source of entertainment at the Zaatari Refugee Camp, over 80km northeast of Amman.
Aug 23,2015
AMMAN — The Asian Football Development Project (AFDP) joined the Dignity for Children Foundation to celebrate the 10th Faisal Cup anniversar
Newsletter
Get top stories and blog posts emailed to you each day.