You are here
Ministry to crack down on water wasters
By Hana Namrouqa - Jun 08,2016 - Last updated at Jun 08,2016
Children wash a minivan parked on a street in Amman using a hose recently. Authorities are cracking down on the wasteful use of potable water (Photo by Hassan Tamimi)
AMMAN — Consumers found using potable water for washing cars or cleaning outdoor spaces will be penalised as an inspection campaign was launched on Wednesday to curb the waste of water.
According to the Water Ministry, water companies and directorates across the Kingdom are required to enforce the law against consumers who use potable water for any purpose other than drinking.
"Wasting water is a crime under the amended Water Authority of Jordan Law… especially if we realise that the country's water security is jeopardised if we don't preserve every drop of water and use it efficiently," Water Minister Hazem Nasser said in a statement e-mailed to The Jordan Times Wednesday.
The campaign seeks to put an end to "many wrong practices" followed by Jordanian households or the Kingdom's visitors, particularly in light of the rising temperatures and the surging demand for water, the ministry's spokesperson, Omar Salameh, told The Jordan Times on Wednesday over the phone.
Under the campaign, people who use drinking water for the irrigation of trees, washing cars, cleaning up driveways, pavements, or gardens using a hose will be penalised, according to Salameh.
In addition, water will be suspended from households whose rooftop water tanks leak, the spokesperson said, stressing that over the past month, scores of offenders who broke water pipes for the irrigation of their cattle were identified and referred for legal action.
Water wasters will pay for the wasted water and they will be fined and referred to the district governor's public safety committee for further legal action, according to the ministry.
Nasser underscored that the government pays JD1.90 for every cubic metre of water pumped to consumers, calling on the public to protect the resource, which he described as an expensive commodity in Jordan.
Related Articles
Aug 27,2016
AMMAN — The Ministry of Water has saved 133,000 cubic metres of water in its crackdown on water waste, Minister Hazem Nasser said on Saturda
Sep 14,2015
AMMAN — The Ministry of Water and Irrigation on Sunday urged the public against using municipal water for cleaning gardens and pavements, wa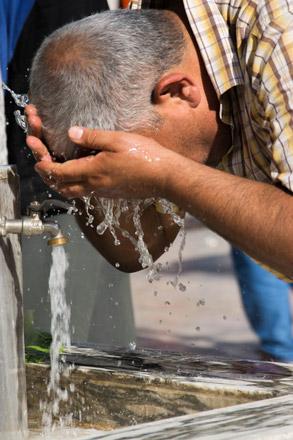 Jul 02,2017
AMMAN — As the demand for water increases due to soaring temperatures, the Ministry of Water and Irrigation on Sunday warned the public agai