You are here
Mission provides free medical treatment to over 7,000 refugees, vulnerable Jordanians
By Ana V. Ibáñez Prieto - Oct 18,2018 - Last updated at Oct 18,2018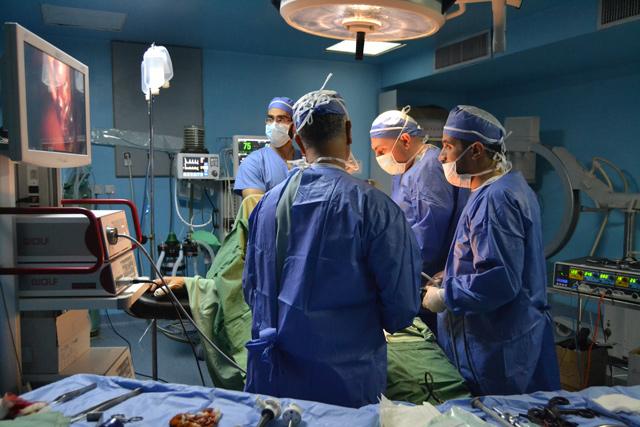 More than 7,000 refugees and vulnerable Jordanians have received free medical treatments and surgeries over the past week (Photo by Ana V. Ibáñez Prieto)
AMMAN — Over 7,000 refugees and vulnerable Jordanians have received free medical treatments and surgeries over the past week through the second 2018 medical mission held by the non-profit Atlantic Humanitarian Relief (AHR), which brought dozens of doctors from across the world at their own expense to provide services to the most vulnerable.
Founded in 2012 by Dr Humam Akbik and nurse Beth Tammaro, AHR organises biannual, week-long mission trips to Jordan to serve refugees in various parts of the country. "With a growing team of volunteers from every profession — from physical therapists to surgeons, dentists to pharmacists and more — AHR unites people from all over the world to work in makeshift clinics, community centres and refugee camps," the organisation said on its website.
"We focus our time and services to those seeking not only medical attention, but also psychological care as well," the statement said, noting that throughout the several trips, volunteers have brought educational kits for children, books, face paint, games, toys and various articles of clothing for all ages.
"It was only two years ago that we decided to scale up our missions to help all, as we noticed a shift in the demographic conditions of Jordan, the concentration of refugees from several nationalities other than Syrian, and the presence of Jordanians with scarce resources and no access to healthcare," Akbik told The Jordan Times at the Hanan Hospital, where volunteers performed surgeries on Wednesday.
Tammaro noted the need to perform those surgeries that "although not immediately urgent, still need to be performed", citing bladder disease, hernias or dental health.
Akbik stressed the importance of providing psychological care and emotional support work, expressing that "even if it is only for one minute, we try to bring the children back to their original childhood and take their minds out of the tragedy, because if we let them feel that they are children again — if we let them experience true childhood and live off that memory, we will have accomplished our goal".
"There is no price for hope, and that is exactly the reason why all of our volunteers come to Jordan from all over the world at their very own expense, sacrificing their sleep for a whole week only to give hope to this people," the doctor continued.
"Doctors are coming here on a voluntary basis and with their pure heart and spirit. When they go back to their home countries and tell their communities what they have seen in Jordan, they further spread awareness and help society to get rid of misconceptions," Tammaro said.
"Since the very onset of the Syrian refugee crisis, I always thought of coming here to help out the Syrian people, and when my colleague in the US told me about the mission, I did not hesitate to come," volunteer anesthesiologist Abdu Algendy told The Jordan Times, explaining that "when you live in the US and you learn about what people here going through here, you can't help but think that you are not doing enough".
"While being here, I have realised how much people need the provided services and how happy they are after getting treatment, and that is what makes me feel like I need to come back and continue this service," Algendy added.
Gulvash Zaman, a dentist from the UK on her second mission to Jordan with AHR, said that the biggest reward comes with "the impact that it has on all those who have no access to healthcare, and the difference that it makes on the lives of the refugees".
"We have been assisting children who couldn't even express their pain because of disabilities or the trauma they have been through, and that makes you realise that you are giving them much more than a dental service," the volunteer said, adding that "in the end, the reward is simply to know that you are making a difference for all those who have no other option".
"We have been helplessly trying to find organisations to provide treatment for my child ever since he was born because we could not afford it, and no one had ever said yes to us until now," said the mother of a 3-year-old who underwent surgery on Wednesday to cure a urethral obstruction, expressing her relief over the service provided by AHR.
If not treated, the blockage could have led the child to suffer from severe kidney damage, kidney stones and infections, according to researchers.
Mohammad Hisham, a refugee who fled to Jordan in 2012 to undergo treatment for spinal cord damage caused by a bombing in Syria, told The Jordan Times that he contacted AHR to request them to bring specialists to treat patients suffering from bladder complications derived from spinal cord injuries.
Although he was able to provide payment for his own treatment, he said "a huge number of Syrian refugees affected by injuries in their spinal cord can't afford it, and they end up suffering from further issues related to the atrophy of their muscles and bladder".
Tammaro said the AHR team has identified that "while primary care needs are usually well satisfied in Jordan, there is still a great need for secondary and tertiary specialty care, and we will try to address that in our next mission".
Newsletter
Get top stories and blog posts emailed to you each day.